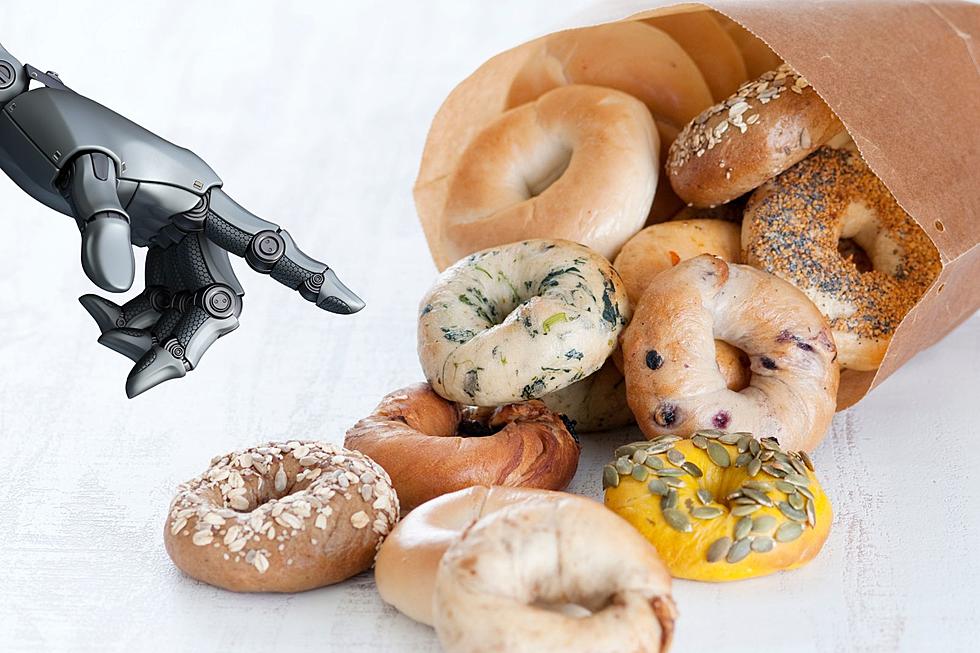 CNY Bagel Maker is Letting AI Choose Its Next Special Edition Flavor
Canva
For roughly two years now Patrick Carney's Wakin' Bagel has been delighting new customers at Farmers Markets throughout Central New York. You'll find traditional varieties like sesame seed and everything, but what Carney enjoys most is branching out and experimenting with some unique flavors.
I'm on a mission to experiment with new flavors, methods and ingredients to see just how far I can elevate a humble circle of dough. I plan on honoring your traditional bagel while creatively using the best possible ingredients, both local and exotic.
Some of Wakin' Bagel's past specials include lemon poppy seed, roasted shishinto, and black garlic.
And now, as Carney approaches his 100th special, he's enlisting some help to choose his next culinary masterpiece... in the form of artificial intelligence.
Carney says he's taken 12 suggestions given to him by AI, and will let customers vote on which one actually gets made for his 100th special. So thankfully, humans do get some say here.
Below are the 12 finalists conjured up by AI:
Roasted Garlic Rosemary
Honey Lavender
Truffle Parmesan
Cranberry Jalapeno
Pear Gorgonzola
Chocolate Hazelnut
Curry Raisin
Fig Prosciutto
Honey Sriracha
Blackberry Sage
Maple Bacon
Sesame Ginger
Vote before September 10th by heading over to their Instagram page and leaving a comment on their post. Doing so will also put you in the running for 2 dozen free bagels.
WHERE TO FIND WAKIN' BAGEL
Wakin' Bagel can be found throughout the year at the Utica Farmer's Market (inside the train station). They will also be on hand at the Mohawk Valley Garlic and Herb Festival on September 9th to drop special #99: fresh local garlic & sun-dried tomato.
For more info on Wakin' Bagel, visit their website at this link. 
Celebrate National Bagel Day at These Upstate New York Bagel Shops
January 15 is National Bagel Day. But don't stop with just one day! Celebrate the mighty bagel every day at these tasty Upstate New York bagel shops.
They all serve handmade bagels, and all offer an amazing array of bagel sandwiches. The shops range from the Hudson Valley to Western New York. Enjoy! And remember, if your favorite bagel shop didn't make this list go ahead and give it a shout-out over on our Facebook page!
LOOK: 40 Discontinued & Special Edition Kellogg's Cereals
More! More of the Best Bagel Destinations in Upstate New York
So, how do you start your morning? A piece of toast on the run? A bowl of Cheerios? Ham and eggs? A fruit smoothie? Well, they are all good starters but for this writer (and many other folks) a great way to start the day is with a toasted bagel with a schmear of cream cheese. Filling, healthy, delicious, and convenient. There are dozens of bagel shops spread all over the Upstate region. Here is a starter list of 14 great bagel bakeries, from the Hudson Valley to Buffalo, and from the St. Lawrence River to the Catskills. Check out the list and see some of the great photos. I can guarantee you that looking at these photographs will make you say, "Yup, it is bagel time!"