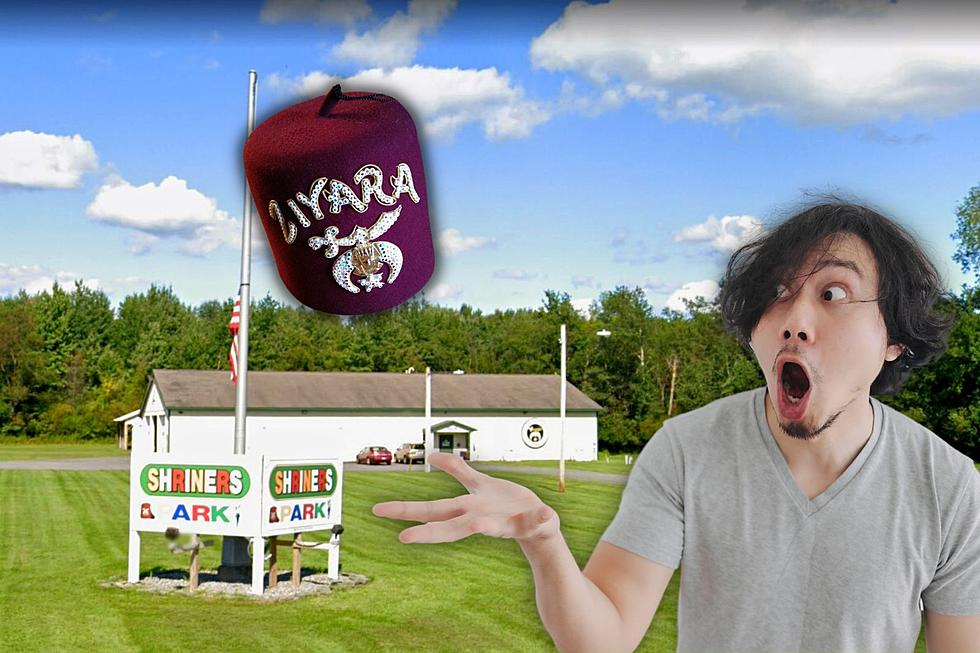 Awesome Piece of Utica Nostalgia Hiding in Plain Site at Shriners
Ziyara Shriners via Facebook / Google Maps / Canva
Something incredible you might remember from the '90s sits nonchalantly outside the main entrance of the Ziyara Shriners building!
Shriners Park, home to the Ziyara chapter, is located at 8209 Halsey Road in Whitesboro. Look what's in front of the building:
See those sphynx statues? Pretty cool, right? But do you know where those are from, originally?!
"THE DUNES" MINIATURE GOLF!
Who remembers "The Dunes" miniature golf course in New Hartford?! It was located on Commercial Drive, near where the current exit to 840 East is.
As a kid, I was in absolute AWE of this place. It was the most incredible miniature golf around! It was putt-putt with an Egyptian theme, with pyramids, sphynxes, etc. You could tell a lot of creativity and money went into it.
Unfortunately, I have not been able to find any retro photos of "The Dunes," so it exists in memory only. But it's so cool that pieces of it are still around!
WHO ARE THE ZIYARA SHRINERS?
Shriners are members of the Masonic order and adhere to the principles of freemasonry, one of the oldest fraternal organizations in the world. It dates back centuries to a time when stonemasons and other craftsmen gathered in lodges or shelter houses to work on construction projects. In contemporary times, members are no longer brought together by a common profession, but by fraternal brotherhood.
The Ziyara chapter of the Shriners can be traced back to a man named Frazier W. Hurlbut. Hurlburt was responsible for assembling a group of local men and requesting a dispensation to open a Shrine Temple in Utica. Utica became the 11th city to receive a charter on October 30, 1877.
Since then, the Ziyara Shriners have taken part in countless charitable endeavors and enjoy social events like parades, trips, dances, dinners, and sporting events. And of course, Shriners everywhere support Shriners Hospitals for Children, which is regarded as the "World's Greatest Philanthropy," providing low-cost or free healthcare to children with neuromuscular conditions, burn injuries and other special healthcare needs.
You can learn more about the Ziyara Shriners at their official webpage. 
Meet the Patients of St Jude Your Donation Helps Save
Meet the patients of St Jude Children's Research Hospital that your monthly Partner in Hope donations helps save.
Rockers Who Hold Charity Events
Find out which of your favorite rockers hold annual events to raise big money for causes close to their hearts.