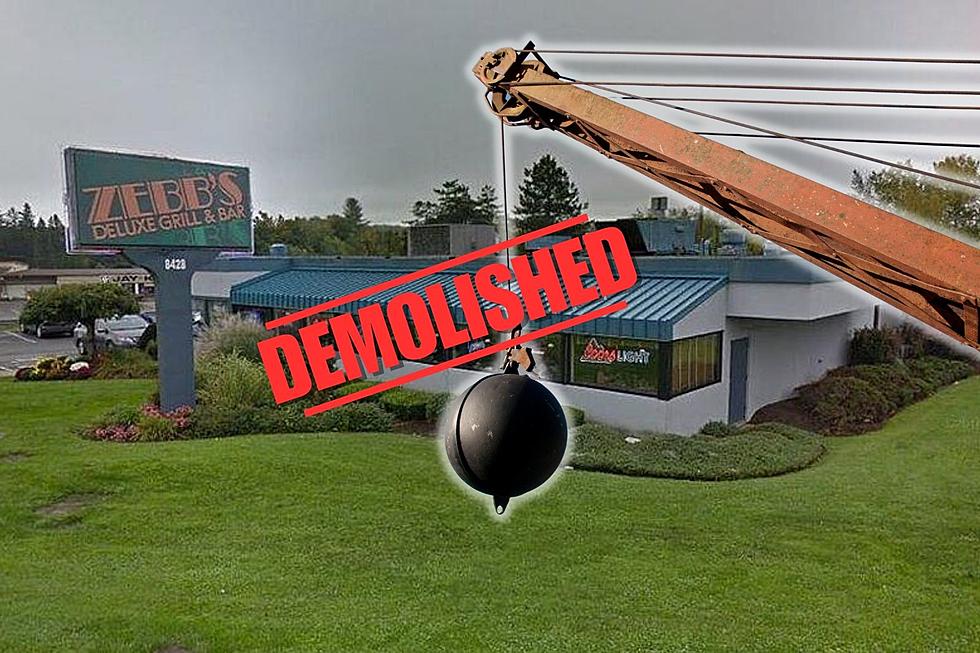 End of an Era: Zebb's in New Hartford Has Been Demolished
Google Maps / Canva
(WARNING: Under no circumstances should you enter this property. By doing so you risk bodily harm and/or prosecution for trespassing on private property.)
They say all good things must come to an end.
Even though Zebb's has been closed for nearly four years at this point, maybe it was a little comforting to know that it was still there. Hey, you never know. Maybe some ambitious person would buy it and open it up again.
Sadly, that looks not to be the case. Because the New Hartford favorite has been reduced to rubble.
I'm not sure when they started doing this, but by Monday evening at around 5:30pm (when I snapped these photos), there was no structure left, only a huge mess to clean up.
What will become of that sign, though? In my opinion, it belongs in a museum.
Like most Mohawk Valley residents, I have fond memories of Zebb's. Its proximity to the mall was clutch. My father and stepmother - who live in Oneonta - would always insist on eating at Zebb's when they ventured into the Utica area. And they were our restaurant of choice before formal high school dances.
And the cookies? Forget about it. The best. The BEST.
Zebb's closed its doors in July of 2019 and remained vacant.
In December of 2022, an arsonist set fire to part of the building, which probably helped in the decision to raze it.
There's been some disgusting rumors of yet another car wash going up in its place, even though a brand new Hoffman Car Wash was installed on Seneca Turnpike not that long ago.
If a car wash *does* go up, I think we can officially declare the Mohawk Valley the car wash (*cough* money laundering *cough*) capital of the U.S.
Goodbye, Zebb's. We will miss you.
Inside the Abandoned Zebb's 3 Years Later
It's been almost 3 years since Zebb's in New Hartford closed. We're still not over it.
26 Restaurants In Utica New York You Need To Try At Least Once
This following list is a great resource if you're looking for some new places to try, or if you're just looking for some place to start. This list is strictly restaurants in Utica New York. Not the Utica area or surrounding towns, but Utica New York. We took submissions from all over social media to build this list. We will have other lists for other parts of our region to showcase next. But right now, let's focus on Utica:
13 Places to Get Reubens in Utica
Here are 13 places where you can get a hot Reuben sandwich in Utica.