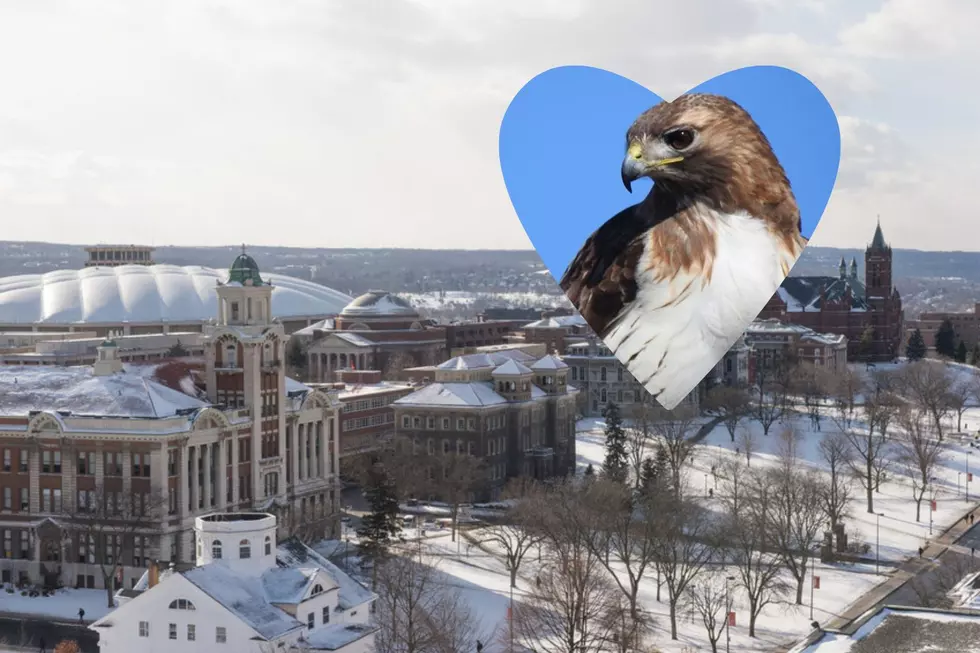 Sue, Syracuse University's Famous Red-Tailed Hawk, Has Died
Syracuse University via Facebook / Anne Marie Higgins
Sue, the popular red-tailed hawk that lived on Syracuse University's campus, has passed away.
Several people reported seeing a felled hawk on the campus grounds on the evening of January 13th. The bird was taken to Page Wildlife Center in Manlius and treated for head trauma, but she sadly succumbed to her injuries.
Sue has lived on campus with her mate Otto since 2012. The pair became locally famous in 2017 after the University installed a "nest cam" that streamed their exploits on Red-Tailed Hawk Tales Facebook page.
Sue & Otto have bore 28 chicks in their time living on Syracuse University's campus. Birdwatchers enjoyed dropping in on the happy couple via the nest cam as they tended to their chicks.
The Facebook page's administrator, Anne Marie Higgins, posted the devastating news on Tuesday, January 17th:
This is a tragic loss for her devoted mate Otto, and the pairs admirers at Syracuse University, in the local community, and around the world who have followed Sue and Otto and their 28 progeny...

Red-tailed Hawks mate for life and when one dies, the surviving hawk usually finds another mate. We hope in time that Otto will find a new mate and they both will continue to thrive.
Red-tailed hawks are a predominant bird of prey found throughout most of the United States. Highly adaptable to a variety of environments, they tend to feed on small rodents and are known for their piercing shrieks.
We offer condolences to Sue's fans and to the staff and students of Syracuse University for their sad loss.
List of Registered Animal Abusers in Upstate New York
Here is a list of people in Upstate NY charged with animal cruelty, according to the Mohawk Hudson Humane Society and the Albany County Sherrif's Department
Stunning Photos Capture Falcon Tearing into Another Bird Along Hudson
Oneida County Eagles Nest
Pair of Eagles protecting their nest from an Osprey attack in Oneida County, NY.