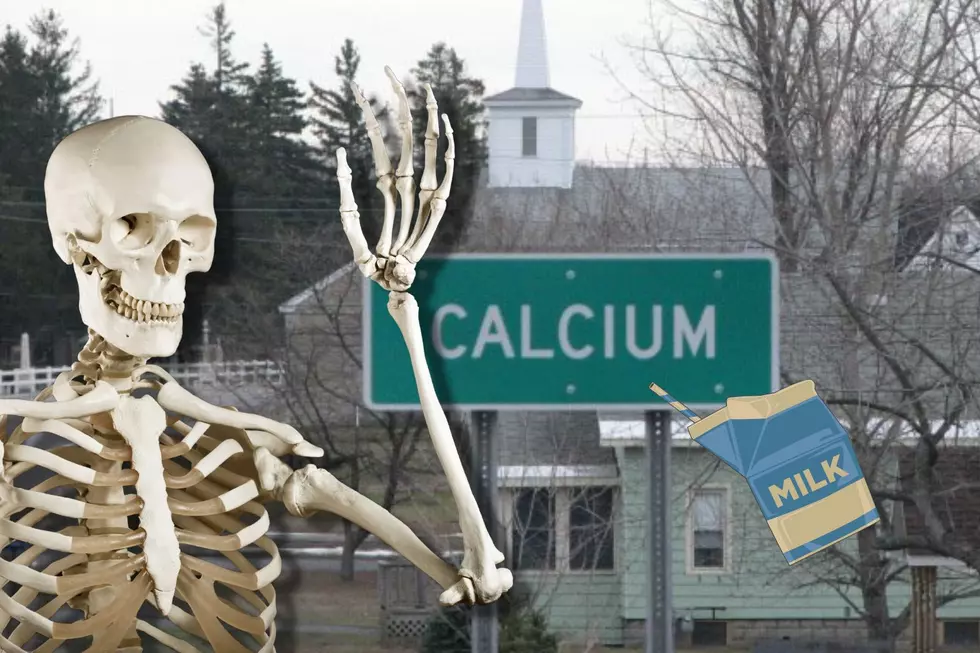 Make No Bones About It: There's a Calcium, New York
Calcium, New York via Facebook / Canva
I don't mean to "milk" this fact, but did you know there's a town in New York called Calcium?
According to Wikipedia, Calcium is a census-designated place about 5 miles east of Watertown, in Jefferson County. It's technically part of the town of Le Ray, along with the hamlet of Sanfords Four Corners. Further east is the U.S. military reservation of Fort Drum.
So what's in Calcium? Not a whole lot. There's a stone building at the corner of State Route 342 and County Route 138 that once served as a post office, along with a church at the same intersection. Both of those are considered historic landmarks.
While there may not be a whole lot in Calcium, there's a lot of calcium in you. Adults have between 1200 and 1400 grams of calcium in their bodies, almost all of it stored in the bones. And while calcium is most closely associated with bones (and teeth), calcium also plays a role in blood clotting and regulating heart rhythms and nerve functions.
WHAT ARE GOOD SOURCES OF CALCIUM?
Naturally-occurring calcium can be found in dairy products such as cheese and yogurt, certain vegetables like winter squash and soy beans, and leafy greens like kale, spinach and bok choy.
And of course, there's milk. Who can forgot the iconic '90s "Got Milk?" commercials? That campaign was created by the Goodby Silverstein & Partners for the California Milk Processor Board. It's because of that campaign that I know who Aaron Burr is. (Fun fact: That commercial was directed by blockbuster action director Michael Bay.)
Make sure you take a swig of milk next time you find yourself passing through Calcium, New York!
The 9 Most Unpronounceable New York Towns
Some New York towns sound like they were conjured up by Dr. Seuss.
All New York Towns That Are Just 1 Syllable
These towns are the opposite of "Canandaigua": They're so easy to say, even an infant could do it.