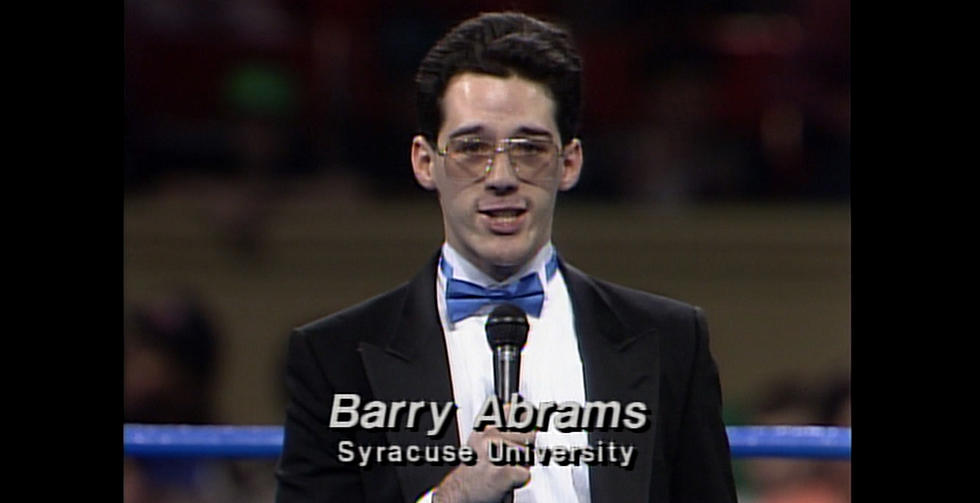 Random 1992 Pro Wrestling Footage Helps Locate Former SU Student
WWE
To be clear, Barry Abrams wasn't missing. I just found him in a weird place.
Don't ask me why, but I often put on old wrestling videos in the background when I work. I think I just like the crowd noise, the overly-excited announcers, and occasionally looking up to catch some ridiculous melodrama unfold on screen.
The event I chose to put on most recently was World Championship Wrestling's SuperBrawl II. This event took place on February 29, 1992 from the Miller High Life Theatre in Milwaukee, Wisconsin. The main event saw Lex Luger defend his title against Sting.
But it wasn't really the matches that I found most interesting. It was the special guest ring announcer during the second match of the undercard. I heard the normal WCW announcer, Gary Michael Cappetta, say:
Ladies and gentlemen, introducing our special guest ring announcer for the following contest... He is the winner of the WCW SuperBrawl II ring announcer contest... he is from Syracuse University... please welcome, Barry Abrams!
"Huh," I thought. "Syracuse University. That's pretty cool. I wonder what that guy is up to now?"
So, I Googled him.
WHO IS BARRY ABRAMS?
Barry Abrams is a successful voiceover artist and producer for ESPN. He hosted the popular ESPN podcast In the Gate from 2012 to 2020, and has recorded a ton of audiobooks. So he's doing great, and that's great to see.
As a Syracuse University alum myself, I decided to reach out to Mr. Abrams to see if he had any memories of this weird blip in his broadcasting career. He was kind enough to respond to me, and had this to share:
The show was in late February, and I remember at the beginning of February [1992], my roommate and I were watching the WCW weekly recap show that aired in the morning, and as the show went to break, a full-screen graphic came up advertising the contest.  Send in a tape (there were no cell phones yet) and certain people would win regional prizes, like being a ring announcer at a local show.  That's what I thought I was doing.

....I was the student photographer shooting a Seton Hall-Syracuse game in the Dome... The contest popped into my brain, and I thought to myself that I had (slightly) better equipment on which to shoot as compared with people at home - including a real microphone - and, of course, a far more spectacular background...  So I pointed the camera at myself and fired away.  Then I transferred the video to a VHS tape and sent it in.
The closer the show got... the less I thought about it. On the Tuesday before the show, I returned from breakfast and there was a message from someone in Atlanta, saying that I was the *grand prize* winner.  I called back, asking what that even means.  Well, you now know what it means.
It meant Barry Abrams was going to be a special guest ring announcer at a WCW pay-per-view! I asked Barry if he had any behind-the-scenes memories of this event:
After the show ended, we wandered over the postgame buffet...  Apparently, [they] forgot to tell us that an angle would be shot for the next week's WCW Saturday Night.  It was a food fight between Sting and his guys vs. Rick Rude and his guys.  My college roommate and I were sort of caught in the crossfire of plates, dishes, etc. being hurled.  I wish I could find that video - that was the best part.

It was also crazy at breakfast on Sunday morning at the Hyatt lobby, seeing Abdullah the Butcher sitting next to Dominique Wilkins, Kevin Willis and the Atlanta Hawks (who had an afternoon game vs. Bucks), and a collegiate women's gymnastics team.
Barry told me he still had his WCW SuperBrawl II swag shirt, and he still wears it to this day:
I am extremely appreciative to Mr. Abrams for taking the time to share this story with me. Also, shoutout to his SuperBrawl II wardrobe choice... the classic combination of tuxedo top with Syracuse University basketball shorts:
You can learn more about Barry Abrams (and even book him for your next voiceover project) at his personal website, barryabramsvoice.com.
Ranking the 10 Best Pro Wrestlers Born in New York
Bet you didn't know some of these guys were born in New York.
Check Out These Awesome Vintage Photos of WWE (WWF) at the Utica Aud in 1988
These photos are a real time capsule! Check out these photos from a WWE (WWF) wrestling event at the Utica Memorial Auditorium in February, 1988.
10 Strange Pro Wrestling Items Being Sold in New York
Here are 10 of the strangest pieces of pro wrestling memorabilia you can buy right now.