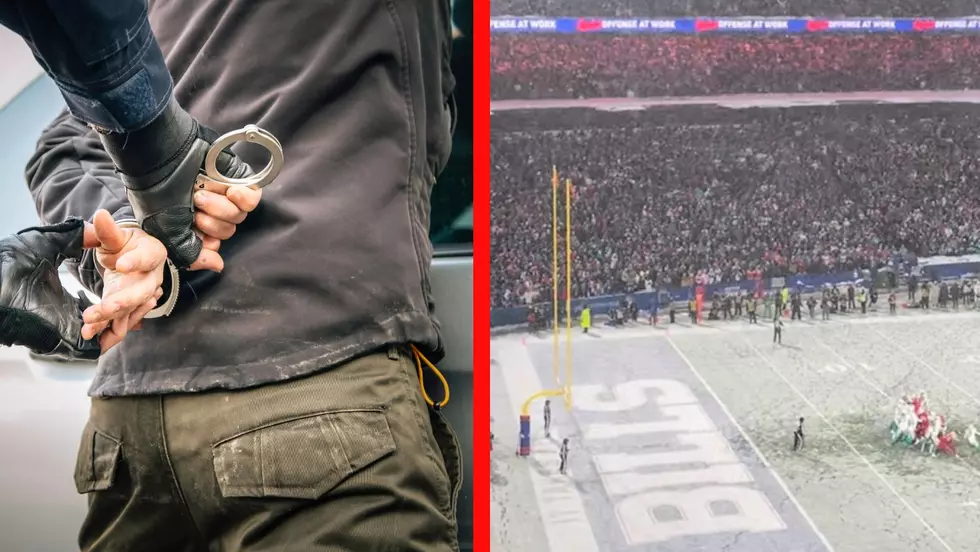 Can You Get Arrested For Vaping At Highmark Stadium?
Photo Credit: Canva Image via Kadie Daye
The Buffalo Bills were able to squeak by the Miami Dolphins in a nerve-racking game on Sunday with a final score of 34-31.
I think fans on both sides turned a few hairs gray watching that match up, but other people seemed to resort to other things to cope with the stress.
At a watch party, one of my friends refused to sit down for the rest of the game until the Buffalo Bills secured the win. Another one had to grab a pillow to take their anger out on. 
But all eyes were on the Miami Dolphins sidelines as they tried to come back and win the game – specifically on head coach Mike McDaniel.
Fans on social media posted a clip from the game that appeared to show Coach McDaniel…hitting a vape?
It has not been confirmed by McDaniel or anyone on the Miami staff that it was a vape, but social media users took a closer look as to why it may be exactly what we think it is. 
Vaping may seem to be more widely accepted in society today, but it is still harmful to the body, so would the NFL allow it? 
According to the Buffalo Bills Highmark Stadium Fan Code of Conduct, "violating the No Tobacco Products policy" may result in "may result in ejection from the game, revocation of season ticket privileges and/or arrest."
When it comes to the No Tobacco Products policy, Highmark Stadium is a tobacco / smoke-free facility. Those tobacco products include "cigarettes/electronic cigarettes, chewing tobacco, lighters/matches​," according to the Buffalo Bills official website. (You can read more about the Fan Code of Conduct here.)  
It's unclear what the fine would be if you are caught with tobacco products in the stadium and whether or not that is one of the violations that can land you a night in jail, but if that is in fact a vape, then it is obvious that Coach McDaniel disrespected the rules of Highmark Stadium. 
Typically, if a fan were to break this rule, they would either be ejected from the game or lose ticket privileges. 
So what will happen with Mike McDaniel? Is he just going to get a free pass on this one?
16 Buffalo Bills With Some Of The Best And Worst Nicknames
Tom Brady Was Intercepted By These Buffalo Bills [LIST]
Tom Brady officially called it quits. He is a list of every Buffalo Bills player who intercepted him during his Hall of Fame career.
One Sentence That Will Immediately Enrage Buffalo Bills Fans [LIST]