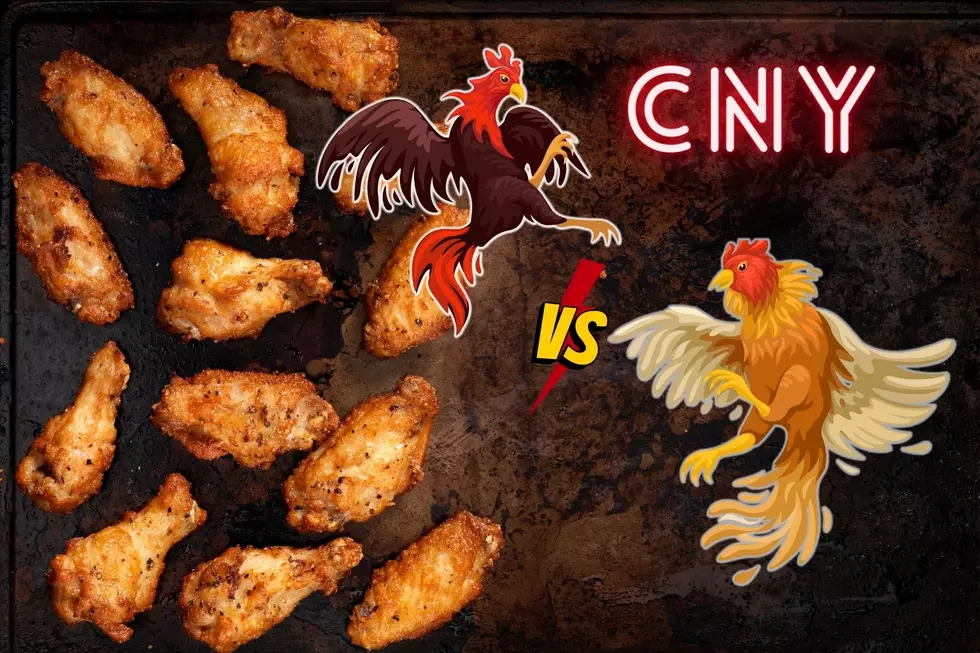 Get Ready for WAR! CNY Wing Wars Returning for 6th Year
Canva
Twelve local area restaurants will once again battle for chicken wing supremacy! The Joseph Michael Chubbuck Foundation is bringing CNY Wing Wars back for its 6th year on Saturday, February 4th!
The event will take place from noon to 3pm at the Harts Hill Inn, located at 135 Clinton Street in Whitesboro. Tickets are $30 per person and include a sampling of one wing per vendor, a slice of cheese pizza, and one beer or soda. Guests will then have an opportunity to vote for their favorites in two different categories: Best Wing and Most Unique Wing.
A panel of local celebrity judges will also weigh in on their favorites: Senator Griffo, Oneida County Sheriff Maciol, WKTV's Kristen Copeland, Empire Plate's Bill Vinci, and WOUR's Will Phillips... hey, that's me!
I don't know how much of a "local celebrity" I really consider myself, but I *do* consider it an honor to chow down on wings from 12 of our great local restaurants!
Tickets for this event can be purchased online at thejmcf.org or by calling 315-339-5993 (9am-5pm, M-F). There is a strict limit of 200 tickets available, so act now!
Below is a list of the 12 competing restaurants:
The Celtic Harp • 805 Varick St, Utica
Pizza Boys • 9 Clinton St, New York Mills
Killabrew Saloon • 10 Clinton Rd, New Hartford
Ray Brothers BBQ • 6474 US-20, Bouckville
Piggy Pat's • 3956 Edgebrook Pl, New Hartford
Pizzeria Italia • 2644 Genesee St, Utica
Knucklehead's • 7362 E Main St, Westmoreland
Hot Off the Brick • 5211 State Route 233, Westmoreland
Utica BBQ • 244 Roosevelt Dr, Utica
Tony's Pizzeria • 4462 Commercial Dr, New Hartford
Lukin's Brick Oven Pizza • 640 Varick St, Utica
Fratello's Pizzeria • 158 E Main St, Frankfort
17 Spots To Order Garlic Parm Chicken Wings In The Utica and Rome Area
We took to social media and asked local food experts in the 315 Menus Group, along with other local food review Facebook groups. These restaurants were mentioned the most. If you have any we should consider expanding this list with, feel free to text us on our station app.
Here's 17 spots in the Utica and Rome area of New York where you can order the best garlic parm chicken wings.
Read On! A Lucky List of 13 of the Best Hot Wing Restaurants in Central NY
As an Upstate New York travel writer I am on the road in the region some 30-40,000 miles a year. And along the way I have stopped at hundreds of places to eat over the last 15 years. Now, my go to meal is always Italian, but...if I am not in the mood for a full sit-down meal I am always good for a bowl of hot wings in a tavern or inn. Here are 13 of the best wing joints in Upstate New York. I have kept the big chains and franchises off the list although they are for the most part excellent (places like Dinosaur BBQ, or Tullys). This list shines the light on smaller, independent, out of the way places that often get missed in the "Best of..." contests and polls, and yet are truly putting out some epic wings. Try them out!
The Capital Regions Best Chicken Wings [RANKED]
It's fall and football season, which makes it the perfect time to reveal who serves the best chicken wings in the area, voted by GNA listeners.