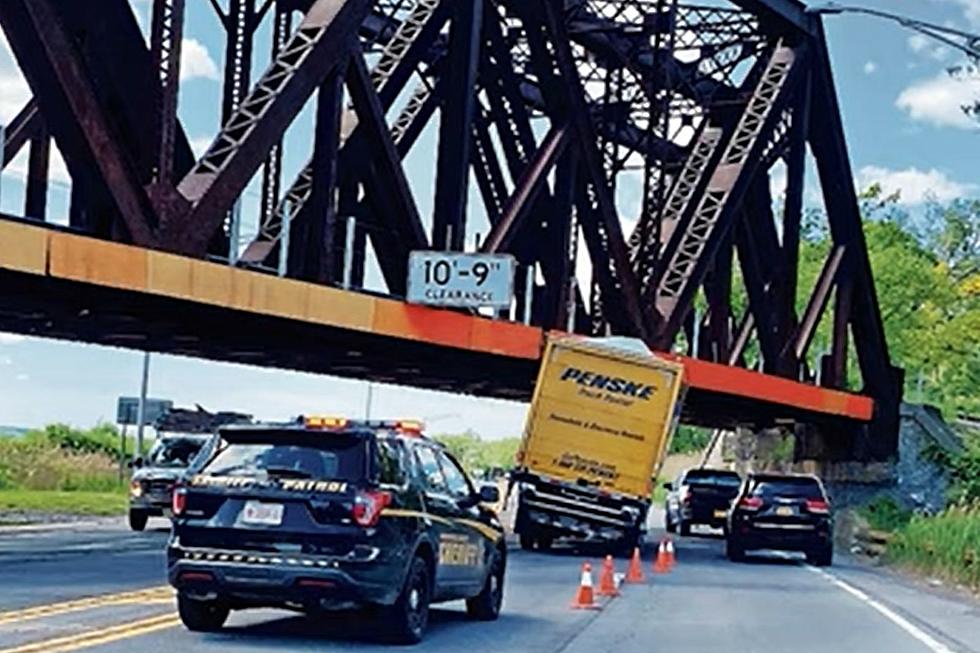 3 Vehicles We'd Love to See Hit the Onondaga Lake Parkway Bridge
syracuse.com via YouTube
***DISCLAIMER: This post isn't meant to "cheer on" car accidents of any kind. Rather, it's a series of "what ifs" that would be, to this author, particularly amusing. It's baffling that nothing has been done to remedy this ongoing issue. 
Ah, the Onondaga Lake Parkway Bridge. The famously low railroad overpass in Salina, New York seems to claim a new victim every week. Despite the copious signage warning travelers of the bridge's 10-foot, 9-inch ceiling, every year tractor trailers get "a little off the top" overestimating its clearing. (The height of most tractor trailers is around 13-14 feet tall.)
Thankfully, when these accidents occur, it rarely results in serious injury, except maybe to the driver's pride. It's considered more of an embarrassment that the locals poke fun at. There've been plenty of memes made about the Onondaga Lake Parkway Bridge, and when an accident does occur, it generates whole new round of wry smiles and finger wags.

So for comedic purposes, let's take a look at 3 types of vehicles we'd love to see collide with the Onondaga Lake Parkway Bridge:
OSCAR MAYER WIENERMOBILE
Wikipedia lists the height of the Wienermobile at 11 feet, which is just a couple of inches over the bridge's threshold. That's probably enough to take the epidermis off this wiener. A "circumcision," you might say!
PEPPERIDGE FARM GOLDFISH MOBILE
Much like Oscar Meyer's Wienermobile, the Goldfish Mobile was Pepperidge Farm's vehicular marketing tool to promote Goldfish snack crackers. Its purpose was to generate attention in public and give out free samples. It was 13 feet high, meaning this fish would certainly get scaled on the Onondaga Lake Parkway Bridge.
PLANTERS NUTMOBILE
The Onondaga Lake Parkway Bridge would roast the Planters Nutmobile, or at least de-shell it. Think about how much fun the peanut gallery in Salina would have with those pics!
In the time it took you, the reader, to complete this article... another truck has collided with the bridge (maybe).
The 5 Most Dangerous Roads In New York State
The most dangerous roads in New York.
From A to Z: Delicious Food Trucks Worth The Visit in Central New York
Pizza, ice cream, barbeque, hot dogs, sandwiches and more, there's something for everyone. That's what is so great about the food truck rallies we get to enjoy regularly. The best part? They are all locally owned and operated.
From A to Z: here's just a few that were suggested.