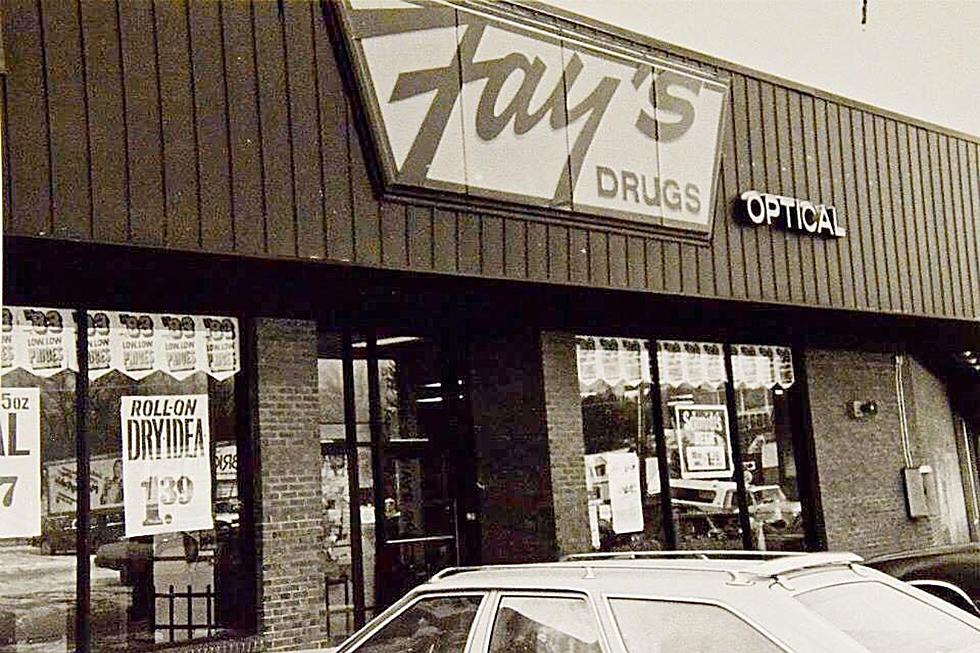 Not Your Average Drugstore: 5 Things You Didn't Know About Fay's Drugs
courtesy of David LaBarge
Sorry Wiz Khalifa, we don't care about the "Black and Yellow" of Pittsburgh... we're talking the "Black and Yellow" of Fay's Drugs!
"NOT YOUR AVERAGE DRUG STORE"
Do you remember shopping at Fay's Drugs? It was a staple of the commercial landscape in Upstate New York for decades. Before there was a Walgreens or Rite Aid on every corner, there was Fay's Drugs.
Fay's Drugs was opened in 1958 by the father & son team of Henry Panasci and Henry Jr, both graduates of the University of Buffalo's pharmacy school. The first location was in Fairmount, New York, a suburb of Syracuse, right here in Central New York. Fearing "Panasci Drugs" wouldn't roll off the tongue, the Panascis decided to name it after Henry Jr's wife, Faye, dropping the "e" to save money on signage.
As business grew, Fay's found success with expansion, eventually going public with its stock in 1969.
Here are 5 things you may not know about Fay's Drugs...
FAY'S BOUGHT OUT CARL'S DRUGS... WHICH WAS OWNED BY A FAMILY MEMBER
Carl Panasci, Henry Jr's uncle and Henry Sr's brother, owned and operated a small drugstore chain called Carls Drugs, headquartered in Rome, New York. In 1991 Fay's bought Carl out, which added 48 new stores to their arsenal, and over 200 in all.
THEY DREW THE IRE OF KODAK
At one point, Kodak threatened legal action against Fay's because the black and yellow on their film packaging was too similar to their own. They eventually abandoned the dispute when Fay's changed it, but by that time, Fay's reportedly had over 50% of Kodak's market share throughout Upstate New York. 
THERE'S A FACEBOOK GROUP FOR FORMER EMPLOYEES
David LaBarge, a former manager of several Fay's stores, created a private Facebook group for fans and ex-employees to reminisce. People post their memories of the store, along with pictures of unique Fay's swag or merchandise they still have in their collection. People even post questions like "What item had the SKU #106302?" (ANSWER: wide rule filler paper.)
They do make you fill out a quick questionnaire before joining the group.
SOME STORES WENT WAY BEYOND TYPICAL DRUGSTORE FARE
Other drugstores didn't carry items like lawnmowers, radar detectors, or lounge chairs, but certain Fay's locations did. Some even sold everything from rowboats to rifles to archery supplies as part of a full line of sporting goods. You could also get your keys duplicated there, giving it some hardware store vibes.
THERE WAS A FAY'S LIQUOR STORE
Fay's once dabbled in selling spirits, operating one lone liquor store in Watertown, New York. It was located right next to a regular Fay's Drugs and a craft store.
The Panascis eventually got out of the family business in 1997 by selling the company to J.C. Penney Co, after which all Fay's became Eckerd Drugs. Thanks to social media and various third party t-shirt sellers, Fay's may be gone, but they're certainly not forgotten.
10 Lost Stores Upstate New Yorkers Miss the Most
Did you call Toys R Us to see if they had Cabbage Patch Kids, Transformers, or a Nintendo 64 in stock? We did too! Here are 10 big stores in Upstate we miss!
Abandoned TNT Video in Utica is in Sad Shape
The old TNT Video on Varick Street is a bona fide time capsule, with VHS videos still on the shelves.
Inside an Abandoned Ponderosa Steakhouse in North Syracuse
Remember Ponderosa? They were famous for their DIY ice cream and tough steaks.