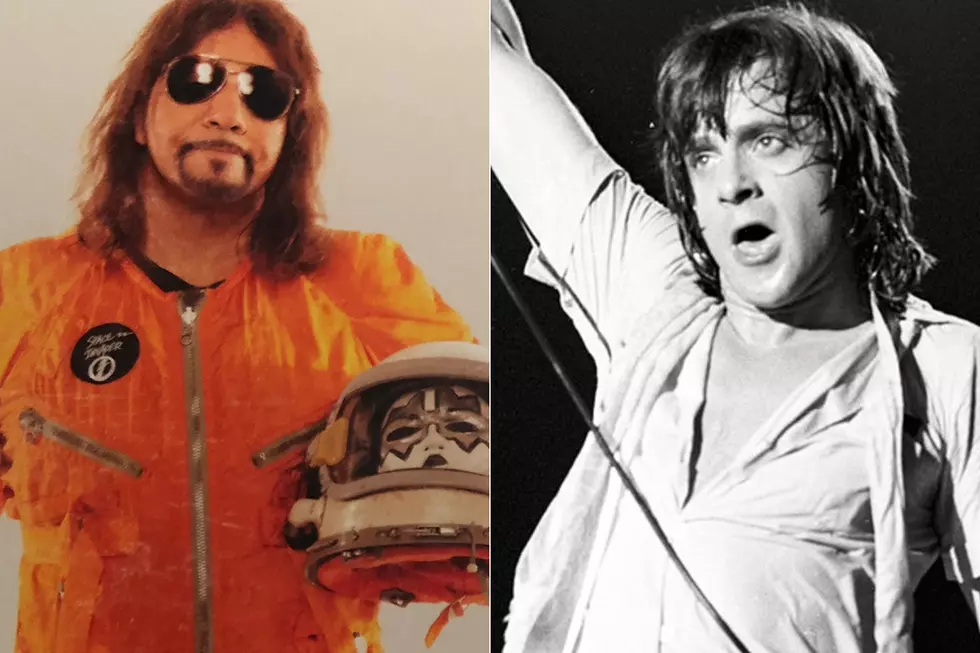 How Eddie Money Took Ace Frehley Back to School
eOne / Michael Ochs Archives, Getty Images
Ace Frehley says a recent visit to his old high-school stomping grounds helped inspire his latest cover song, a wistful take on Eddie Money's "I Wanna Go Back."
Covers have always been an important part of Frehley's career. A hit version of Hello's "New York Groove" helped his 1978 solo album outshine the corresponding efforts of his Kiss counterparts, and earned him a greater share of the songwriting and vocal duties on the group's subsequent albums.
Since Frehley started his solo career, each of his albums has featured at least one take on a song made famous by somebody else, including nearly every track on 2016's influence-honoring Origins, Vol. 1.
Frehley says he made a particularly strong emotional connection with "I Wanna Go Back," which he covers on his newest album, Spaceman. "It's a great song," he tells UCR. "I identified with because it was about him going back to his old high school. I don't think a 20-year-old guy could really do justice to a song like that, you had to have been around for a while, with those lyrics."
The song found its way to Frehley fairly easily. "I remember hearing it, I was with [wife] Rachel in bed," he recalls. "We were watching all [these] different artists on YouTube, and then the song came on. I was intrigued by the video, because it shows [Money] going back to his old high school. It made me think of when I did my interview with the Village Voice. We took a ride up to the Bronx, and visited my old high school, they wanted to see places where I used to hang out. So I identified with the lyrics and I felt the music and the melody of the song were great. I knew I could do a good cover of it."
The compact, hook-filled Spaceman continues a particularly hot streak in Frehley's career. This is the third well-received album he's released in the past four years. "I'm probably in a better place right now than I've ever been," he notes. "Every album I've been putting out has been doing better and better, there's a lot of excitement surrounding this record and the sky's the limit. God gave me this talent, and I've been able to nurture it."
He says Spaceman's shift away from the more expansive, trippy songwriting featured on 2014's Space Invader, his last collection of original songs, wasn't intentional. "I really didn't think about how long the songs were," he explains. "I was just in the state of mind to do the best album I could do, and I didn't want to focus on a space theme. So for some of the songs, I drew from my growing up, like 'Bronx Boy' and the 'I Wanna Go Back' cover. They're fun, easy songs to play."
Several of the songs feature acoustic guitar underpinnings, a trick Frehley says he picked up from one of his heroes. "I pretty much got that idea from Pete Townshend," he notes. "If you listen, almost all of those old Who records, even if it's powered by an electric guitar, he usually has the acoustic tucked under in the mix."
Frehley got to pay his respects when Townshend played Frehley's current hometown of San Diego recently. He admits to being a little tongue-tied. "I ended up going backstage and saying hi to him, it was nice," he recalls. "When you meet somebody that you've idolized your whole life, you get a little starstruck. I didn't really know what to say to him, except for the fact that I was influenced by his guitar work and I was really pleased to meet him. I didn't know what to say. We just shook hands and took a couple of photos."
With his former Kiss bandmates recently announcing their End of the Road farewell tour, Frehley says he's not thinking about staging his own farewell just yet. "I'm 67, I'm in great health," he says. "I just came back from Australia and Japan. Japan, I actually did eight shows in four days. I did two 70-minute shows a day. I was a little apprehensive to take the gig, because I wasn't sure I could do it. But I surprised myself. Sometimes the second show was better than the first, because I was already warmed up."
Instead of retirement on his mind, Frehley's already got a pair of sequels in the works. "I'm working on my second book, which is tentatively titled No Regrets II, but that could change," he says.
"The first book (2009's No Regrets) just scratched the surface. I could write five books on all the crazy stories that I've been involved with. I'm going to try to keep it upbeat and positive and entertaining. And I'm going to start recording Origins Vol. 2 soon. Don't be surprised if I do songs from some of the same bands that I did on Vol. 1. Because those are the songs that influenced me, and that's what the Origins records are all about."
Kiss Albums Ranked