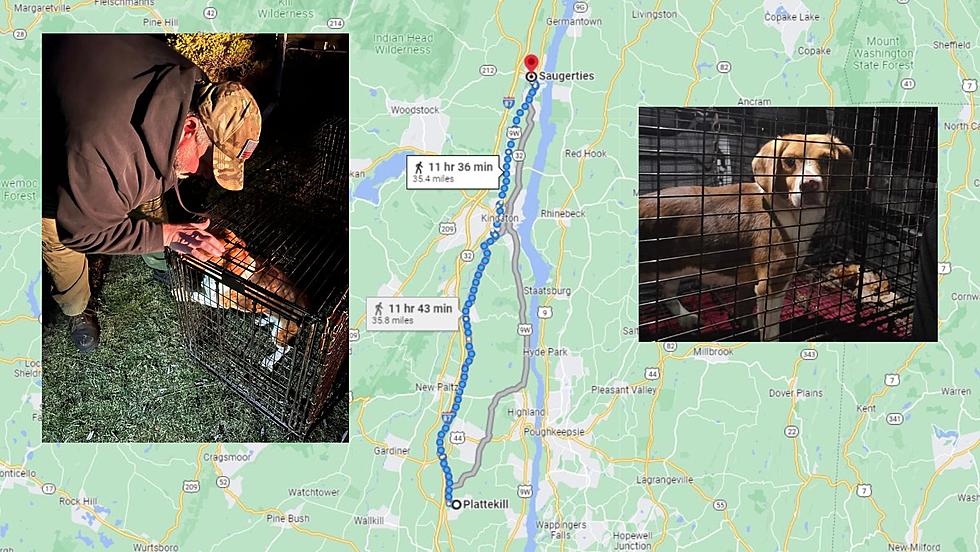 Plattekill Pup Returns Home after 8 Weeks on The Run Across the Hudson Valley
Pete Stagg/Google Maps
A Hudson Valley dog is resting comfortably at home after an adventure that took her all over Orange and Ulster County.
For the last few weeks, I had been seeing posts on social media about a missing beagle. It caught my eye and I watched as the community came together when Callie, a recently rescued pup from CARE of DC, took off from her Plattekill home shortly after being adopted.
The Harrowing Tale of Callie The Pup
Pete Stagg, Callie's owner, shared the harrowing tale with us that spanned over 8 weeks across 2 counties.
According to Stagg, back in January only 1 day after bringing Callie home while on a 3 am bathroom break, Callie rolled on the grounds and slipped her collar. That began an extremely stressful few weeks. Staggs says:
It was a terrible 8 weeks. We went from panic to pure sadness. But, every few days we would get a Ring video and a sighting.
He adds that "Callie was a night runner" and his phone would blow up with notifications of sightings between 7 pm to midnight.
Where Was Callie Running to?
Those Ring video sightings were helpful in tracking Callie's whereabouts. Stagg writes "Callie at first went south to Newburgh the back through Plattekill, Modena, New Paltz, Kingston then Saugerties." There are videos of the dog, who is said to be between 2.5 and 3 years old, in Newburgh, Plattekill, Gardiner and Saugerties.
Thankfully, Stagg, his family, and the community were proactive and set traps in areas where Callie was spotted. There were a few "almost" captures close to home, but it was a trap in Saugerties that finally brought Callie home.
Stagg posted on social media that back on Thursday, March 16th at 7:20 pm "Callie "The Beagle" walked into the trap on Old Stage Road" in Saugerties. Pete tells us that Callie traveled at least 37 miles to her final location in Saugerties.
Callie The Beagle Recovering at Home
While Callie is safe at home, she's still getting used to things. Pete said that Callie is still very skittish "but is interacting more and more each day" and while on her trip lost 2.5 pounds.
Pete shared his gratitude after Callie's return on Facebook writing:
Callie is home! After 8 weeks on the run and with the help of too many people to list, our amazing friend and animal rescue specialist (who once again told me wants to remain anonymous) set a trap in Saugerties NY. At 7:26pm Callie was captured! Amy Luke, her husband Joshua and amazing daughter JoElle Luke immediately responded to calm Callie down. We got there in 6 minutes to find our baby calmly waiting for us to take her home. I can tell you first hand, there are good people in this world. Kim, Amanda and I are forever grateful. Callie is no longer a Lost Dog!
Another Beagle Pup on The Run
While on their search for Callie, the Stagg family came across another beagle on the run. His name is Pluto and he currently has a possible family ready to adopt him.  Take a look:
5 Great Places to Adopt a Dog in the Hudson Valley
5 of the Hudson Valley's Best Animal Shelters
10 of The Top Rated Dog Parks Across the Hudson Valley
Looking for a change of scenery with your pup? Check one of these top-rated dog parks located right here in the Hudson Valley according to Google Reviews.
15 Dog-Friendly Winery and Cideries in the Hudson Valley
There's nothing more relaxing than enjoying a glass of your favorite wine with your best friend by your side. Check out these 15 dog-friendly wineries and cideries across the Hudson Valley.