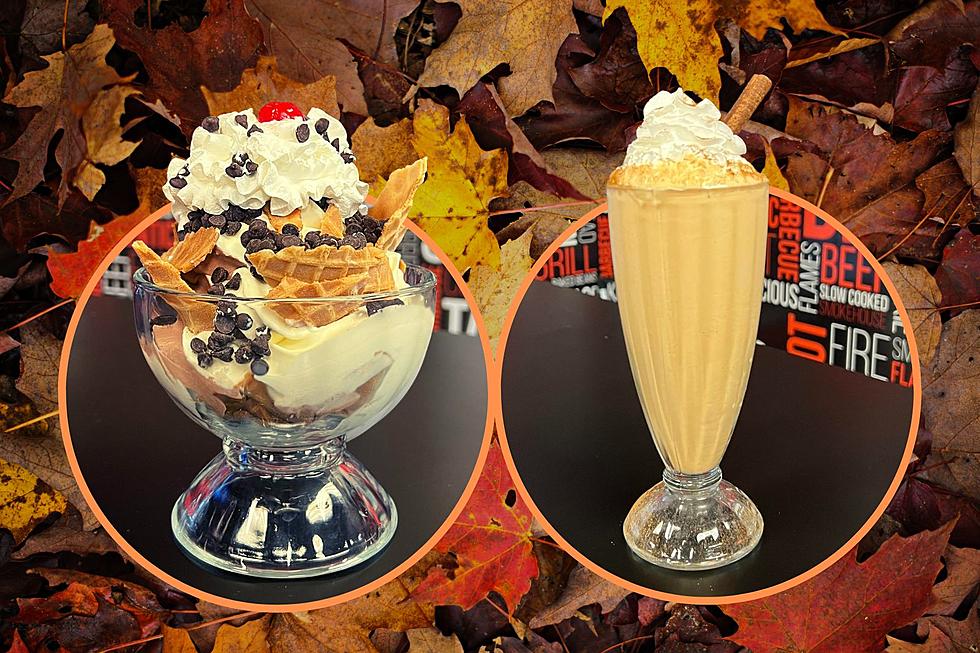 Sip & Scoop into Fall with these 2 Ice Cream Treats in Central NY
Kookie's Q via Facebook
Taste the fall season for yourself at this popular ice cream spot in Central New York.
Who said fall is the end of the ice cream season in New York? Sure, it's going to get colder every day from here on out... but that doesn't mean we should put our favorite dairy delights to bed.
Especially when they look like this.
The Cannoli Sundae
Kookie's Q Creamery is back once again with deliciously, new creations for everyone to enjoy. They never fail to disappoint with what they come up with.
Every month they highlight a new delicious dessert with their "Sundae of the Month". This time they're welcoming the fall season with a Cannoli Sundae. Are cannoli's strictly a fall treat? No, of course not. But this sundae is only here for this month alone.
What's in it?
That's a great question voice in my head! Take a look at all the ingredients...
Vanilla/Chocolate Twist Soft Serve
Rich Hot Fudge
Chocolate Chips
Crispy Waffle Cone
Whipped Cream
Cherry on Top!
If you wanted to pair it with another ice cream treat that's DEFINITELY fall themed, then you need to try this.
Pumpkin Spice Shake
They waited long enough to unveil this bad boy. Embrace your inner 'stereotypical-white-girl' and sip into this fall favorite.
Whether you like "pumpkin spice" or not, you have to agree this shake looks absolutely delicious. It's hard not to smell the pumpkin flavoring and cinnamon stick looking at this picture. Even lactose intolerant me would cave for this.
Try them both for a limited time at any Kookie's Q location.
9 New York Ice Cream Shops With Massive Cones It'd Take Two to Eat
Here are 9 shops in New York that serve cones and sundaes so big you may have to call in help.
10 Best Towns in in New York State for Fall 2023
We're just about at the fall season, which means festivals, pumpkins, fall foliage and more. Here are the 10 best towns for autumn in New York state.
Community Comes Out to Catch Moose on CNY Soccer Field
A moose wandering through a Central New York park brings out the whole community.
See BBG's and Symeon's "Friendly Sign Wars" Through the Years
If you ever needed a pick me up, you need to drive by these two restaurants on Commercial Drive. Sure, we will go there for the good food... But I'm stopping in to meet the masterminds behind these hilarious signs.
Their "friendly sign war" has been going back-and-forth since 2021, and here are some of the highlights.