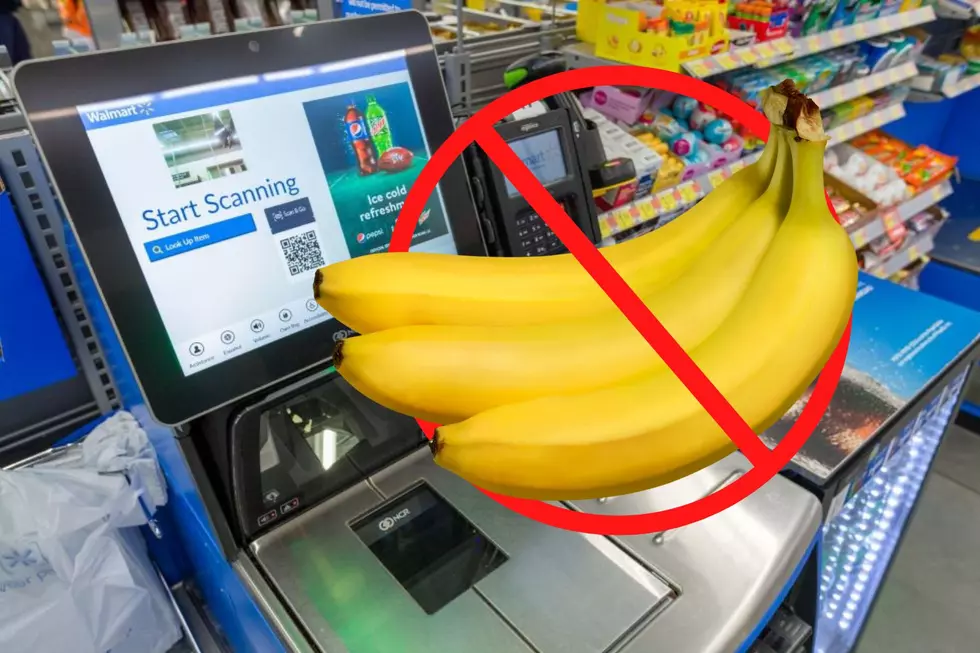 Bye Bye "Banana Trick"! NY Walmarts Make Big Change At Checkout
Canva/Walmart
Have you heard of the "banana trick"? Let's say you have a bone-in porterhouse steak that costs $14 per pound at a grocery store. You also know bananas are a much cheaper 53-cents per pound. So when you check out, you choose a self-scan lane and instead of scanning the porterhouse barcode, you enter the produce code for bananas, weigh your steak on the scanner, then slip it in your bag for a very lucrative, very illegal deal on dinner.
Those days are finished at Upstate Walmarts, with new Artificial Intelligence tech being added to self-checkouts to stop a rash of organized theft rings. In December, Walmart CEO Doug McMillon told CNBC that shoplifting is out of control at their stores, and that if it continues, it could raise prices for everyone.
Walmart isn't the only shopping giant to feel more pressure. Target says they lost $400 million to theft in 2022. Inflation and stagnant pay are leading many to use self-scan checkouts as a means of circumventing security.
You've probably seen the cameras pointed at you while you checkout, but now Walmart is also recording the products themselves. A company called Edgify is supplying Walmart with AI-enabled kiosks that use cameras in their scanners that can double check how truthful people are when scanning. Here's a video of the Edgify scanner at work.
The clip shows how AI uses a camera and special recognition technology to make sure what's being scanned is what's being billed. The software even goes so far as to be able to tell the difference between Red Delicious apples and Pink Lady apples. The Edgify checkouts can even determine discrepancies through the plastic produce bags.
Besides the "banana trick" with weight, the AI self-scanners can also detect another type of theft where barcodes are swapped on item so they appear scanned, but at a much lower price.
Walmart's Secret PA Codes
Knowing when you should leave could save you a little stress and keep the family safe while you're shopping. Here's what you should listen for.
New York State Police Canine Unit
Here is a partial list of the New York State Police K9 Unit. This division was created in 1975. The original three canines were put into service as explosives detection canines in preparation for the 1980 Winter Olympic Games in Lake Placid, New York.
New York State Police canines are named in honor of the men and women of the state police who have died in the line of duty.