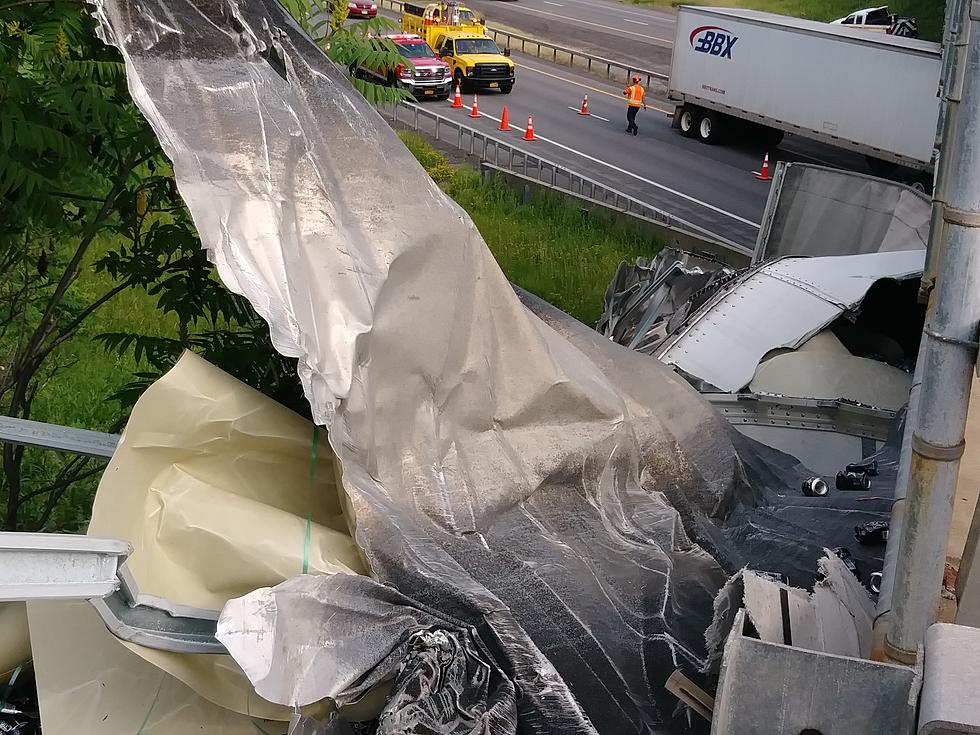 Florida Man Killed, One Injured In Thruway Crash
Davey Smith
A tractor-trailer accident has slowed traffic on the New York State Thruway.
UPDATED 1:44 p.m.-  State Police say a Florida man was killed Monday morning in a tractor-trailer accident on the Thruway in the Town of Schuyler.
Police say 49-year old Bruce Debraccio of Sarasota lost control of the tractor-trailer and struck the Route 5 overpass.
Debraccio was pronounced dead at the scene.
A passenger in the vehicle, 56-year old Valerie Martin, also from Sarasota, was taken to a local hospital with non-life threatening injuries.
The investigation into the accident is continuing.
UPDATED 9:23 a.m.- State Police are investigating a fatal tractor trailer accident that happened this morning on the Thruway in the Town of Schuyler.
The crash happened under the Route 5 bridge, with the tractor trailer becoming wedged underneath the bridge.
Police say a passenger in the tractor trailer was taken to a local hospital in stable condition.
According to the Thruway Authority Facebook page, traffic in the right lane between Exits 30 and 31 eastbound are blocked.
The tractor-trailer became wedged underneath the Route 5 bridge near Schuyler. Another vehicle was involved in the accident, but few details are being released at this time. We will provide more details as they become available.
The State DOT says, "The NYS Thruway Authority reports I-90 (Thruway) eastbound has only the right lane blocked between Exit 31 (I-790/Route 8/Route 12) in the City of Utica, Oneida and Exit 30 (Route 28) in the Village of Herkimer, Herkimer County due to an overturned tractor trailer. The left lane has been re-opened."