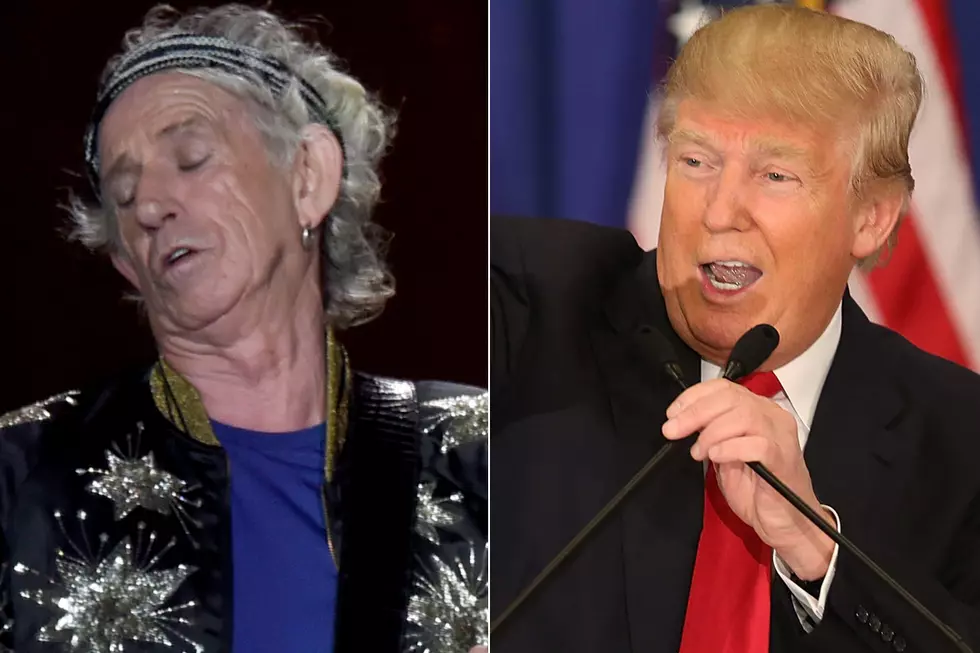 Keith Richards Admits Pulling a Knife in a Trump-Fueled Rage
Rick Diamond / Joe Raedle, Getty Images
It's a story that seems deliberately crafted to play up the most outlandish elements of the involved parties' public personas: On one side, there's Donald Trump, brought in to help promote a Rolling Stones show and elbowing his way into the spotlight despite being warned that his public involvement was to be limited; on the other, there's Keith Richards, angrily brandishing a knife after efforts to rein in Trump came to naught.
Now, after years of existing as a rumor, it appears to have been finally confirmed.
The story, as originally told by promoter Michael Cohl, unraveled in 1989, when he was busy plotting dates for the Stones' massive Steel Wheels tour — and hitting a wall in Atlantic City, where, as he put it, "they didn't like rock music yet." Trump became involved over the Stones' objections, but they were convinced to go along with the deal after being assured that he wouldn't attend the show. Naturally, he ended up at the venue anyway, and held a press conference that continued even after Cohl made him promise to stop.
Richards essentially confirmed Cohl's version of events during a recent conversation with the BBC, saying he was already incensed because the show was promoted as "Donald Trump Presents the Rolling Stones" with Trump's name bigger than the band's. "I got out my trusty blade, stuck it in the table and said, 'You have to get rid of this man,'" he recalled, quipping, "Now America has to get rid of him. Don't say I didn't warn you!"
Trump's Stones connection has continued through his use of their classic "You Can't Always Get What You Want" at political appearances and campaign stops — something that seems to amuse singer Mick Jagger as much as it annoys him. "It's a funny song for a play-out song — a drowsy ballad about drugs in Chelsea," Jagger pointed out. "It's kind of weird. He couldn't be persuaded to use something else."