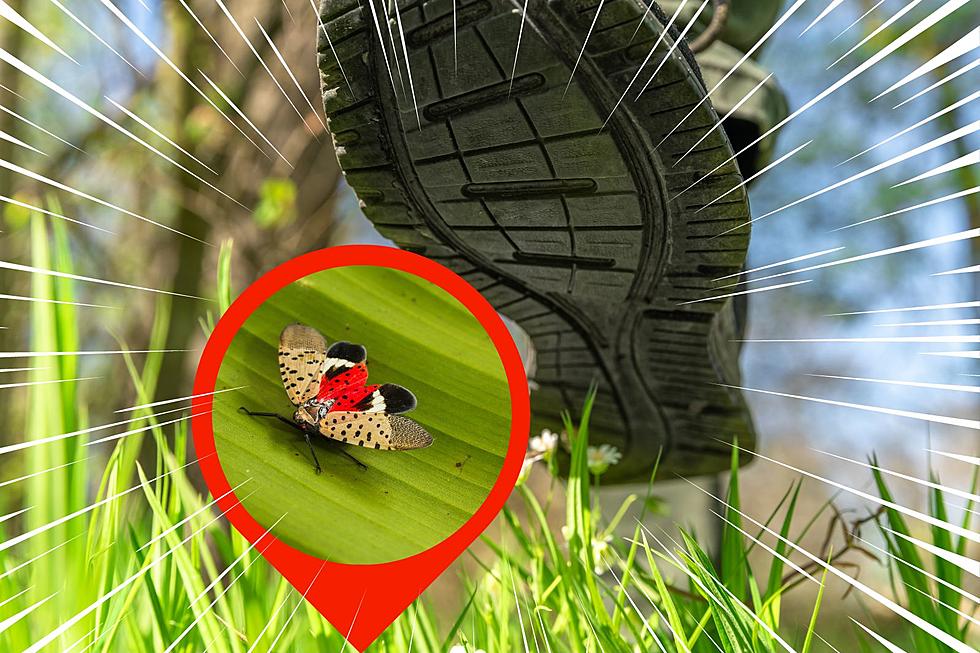 If You See This Highly Invasive Insect in New York, Kill It Immediately
Canva
New York is being invaded by a colorful bug that could cost the local economy hundreds of millions in damage if it isn't stopped.
Officials from Cornell University's College of Agriculture and Life Sciences are warning residents to be on the lookout for the spotted lanternfly.
What do they look like?
The insect is easily identifiable thanks to its signature spotted pattern on its wings. Its front wings are light brown with black spots while their hind wings have red, white and black patches.
Adults grow up to be approximately an inch long and half an inch wide.
While the bugs are pretty, they pose a serious threat to the local economy. They could cost New York $300 million a year if their population isn't controlled.
If you see one, kill it immediately
The spotted lanternfly will wreak havoc on New York's agriculture by infesting wooded areas, fruit trees and vineyards. The latter is especially scary to the local wine industry, as these swarming insects love to feast on grapevine sap and will wipe out the plants.
Thankfully, there are several ways to keep these pests at bay. Vinegar kills spotted lanternflies instantly, as does insecticidal soap. Liquid soap like Dawn also works if mixed with water and about a tablespoon of vegetable oil.
Another, and possibly more satisfying way to eliminate these pests is to vacuum them. Some people have also found an effective way to trap and kill a bunch of them using just an empty water bottle.

Of course, you can also go the old fashioned way by smashing them with your feet.
Be on the lookout for their eggs
People should also be on the lookout for their egg masses, which can appear like a smudge of drying clay to the untrained eye. These masses are about an inch long and can be found on a variety of hard surfaces, but most commonly on trees and stones.
They can also be found on cars, outdoor furniture and fencing. It is important to check these places if there is a high concentration of tree-of-heaven in the area. Tree-of-heaven, which is also known as Chinese sumac, is a preferred host of the spotted lanternfly.
That said, if you come across any of these masses, destroy them immediately because they contain up to 50 lanternfly eggs. People are encouraged to smash these masses and scrape them into a plastic zippered bag filled with rubbing alcohol or hand sanitizer. After that, tightly close up the bag and properly dispose of it.
Spotted lanternflies begin laying their eggs in September and the season lasts into November - or until the first killing freeze.
In the end, it doesn't matter how you kill these creatures, the goal is to eradicate the invasive species before it's too late. You should also report any sightings to the New York State Department of Agriculture and Markets.
To get an idea of what to watch out for, here's pictures of spotted lanternfly egg masses via USDA, NY Department of Agriculture and Markets, Pennsylvania Department of Agriculture, New York State Department of Environmental Conservation.
Spotted Lanterfly
Cornell has more information about their lifecycle HERE.
Where did they come from?
Spotted lanternflies are indigenous to Asia; mainly China, India, and Vietnam. As for how they got to the U.S., it's believed these insects arrived as egg masses in a 2012 stone shipment from China.
The first U.S. lanternfly sighting happened two years later, with an infestation reported in Berks County, Pennsylvania.
Since then, the lanternflies have spread to more than 10 other states, which include New York, New Jersey, Massachusetts, and Connecticut.
New York reported its first sighting in 2020 and the State Department of Agriculture and Markets say these bugs have since been found in these areas:
On Staten Island, all New York City boroughs, Long Island, Port Jervis, Sloatsburg, Orangeburg, Ithaca, Binghamton, Middletown, Newburgh, Highland, and the Buffalo area.
They are here in Central NY, so enjoy Hulk-smashing the crap out of these bugs. It is imperative that you help stop the spread.
What to know about the spotted lanternfly and the tree of heaven
This is especially important now since the Spotted Lanternfly appears to be spreading to more parts of the East Coast. The tree of heaven is a very likely place to find those egg masses come fall.
Asian 'Destructive Invasive Pest' Spotted All Over New York, Hudson Valley
A "destructive invasive pest" from Asia has been spotted in the Hudson Valley and across New York State.