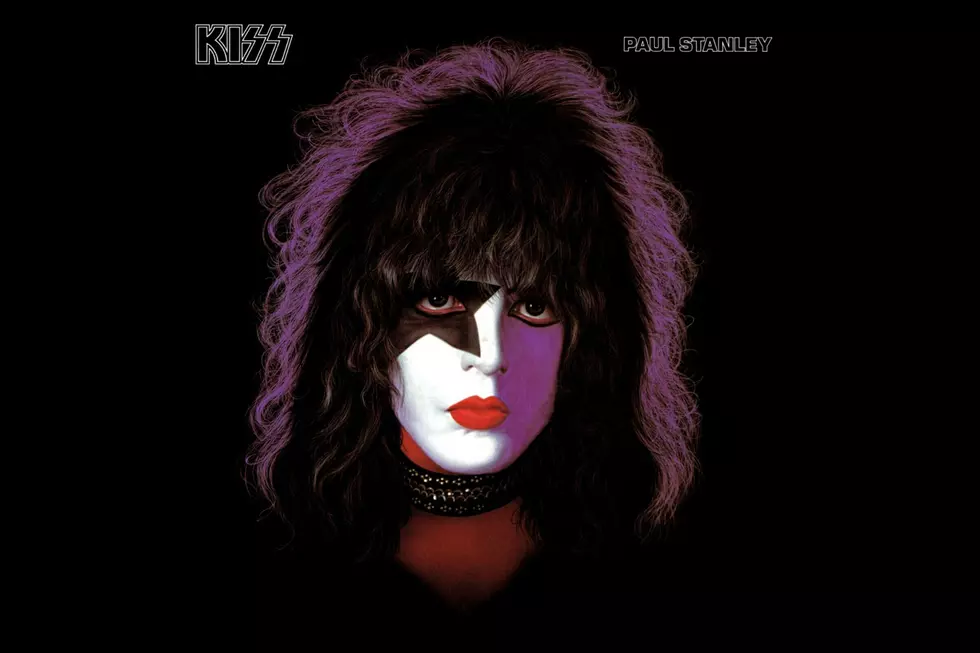 Paul Stanley's Solo Album Chronicled a Real-Life Love Triangle
Casablanca
Paul Stanley said he used his 1978 solo album to work through the complicated emotions churned up by a real-life love triangle.
The Kiss star had become romantically involved with a woman from his manager Bill Aucoin's publicity department, but she was still dating somebody else.
"I basked in the drama of that classic love triangle," Stanley explained in his 2014 book Face the Music. "But I was desperate to pull her away from him. 'Tonight You Belong to Me' and 'Wouldn't You Like to Know Me' are about her. 'Tonight' remained one of my favorite songs because of that tear-your-heart-out passion and pain that I knew so well."
Why Kiss Recorded Simultaneous Solo Albums
Stanley and his three Kiss bandmates had agreed to simultaneously record and release solo albums at the height of their fame because drummer Peter Criss and lead guitarist Ace Frehley were unhappy with their roles in the group and threatening to quit.
Along with bassist Gene Simmons, Stanley dominated the songwriting and lead vocal duties in the band and served as the host during their concerts. Like Simmons, Stanley didn't need to make a solo album to prove anything. While his musical partner used the solo occasion to shed his demonic image and host a more diverse star-studded musical party, Stanley stayed on the same musical path he was on with Kiss.
READ MORE: Why Gene Simmons Was Free to Make Kiss' Weirdest Solo Album
"Paul's solo album was straight-ahead rock, which he's really good at," Bob Kulick, who played lead guitar on the record, explained in the 2001 book Kiss: Behind the Mask. "The songs had little twists because of his varied influences. They were better played and better fleshed out by this group rather than [the] stiffer, more regimented approach that Kiss may have brought to the table."
"It gave us a chance to let those kinds of ballads come to the front," Stanley reflected in the same book. "It's kind of like a diary because there was a lot of stuff going on at that point that I was writing about."
Hear Paul Stanley's 'Ain't Quite Right'
When the four solo albums were released on Sept. 18, 1978, Stanley's was well received by fans and hit No. 40 on the chart. "I thought Paul's was probably the second-best of the solo albums," Frehley declared in Behind the Mask.
How Paul Stanley's Pop Instincts Brought Kiss New Commercial Success
Simmons, for one, wasn't a fan of the softer pop influences included on Stanley's solo album. "There's a lot of stuff on there that's 'love this and love that,' 'Wouldn't You Like to Know Me,' 'Hold Me, Touch Me' kind of stuff," he noted in Behind the Mask. "When Paul starts to get romantic, I turn off. But as a rock 'n' roller, you can't touch him."
Although some fans of the band's hard rock sound complained, Stanley's increasingly strong pop instincts would serve Kiss commercially well when they reconvened for 1979's Dynasty. The success of Frehley's solo album earned him a bigger slice of songwriting and vocal duties, but Stanley wrote and sang the album's two singles. The disco-inspired "I Was Made for Lovin' You" became one of their biggest hits, and the ballad "Sure Know Something" cracked the Top 50.
So how did the love triangle resolve itself? Stanley revealed that the woman eventually chose to be with him, but that her decision caused him to have a panic attack. "The truth was that so much of my life was about chasing approval, chasing acknowledgment, and chasing love, that when confronted with the chance to actually get approval, acknowledgment and love, I was stunned," he recalled in Face the Music.
"The reaction surprised me because in my mind I really thought being with her was the answer," he continued. "But it was safer to just chase things, I wasn't equipped for the real thing. Needless to say, she didn't stop seeing her other guy after all."
Kiss Solo Albums Ranked Worst to Best
Counting down solo albums released by various members of Kiss.