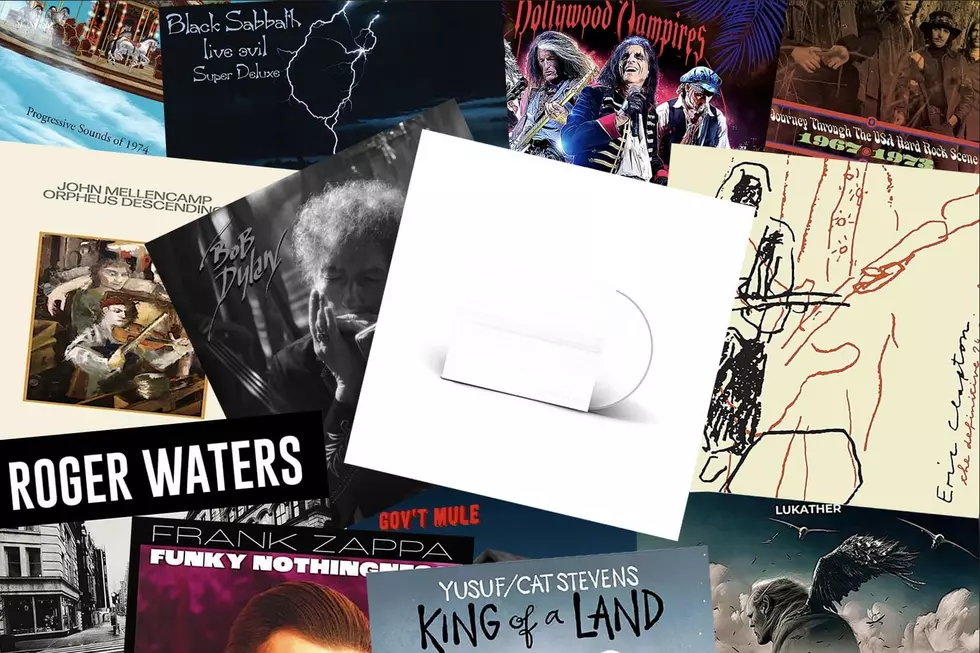 June 2023 New Music Releases
UCR
Just because Record Store Day has come and gone doesn't mean there aren't still plenty of good reasons to stop by.
The slate of June 2023 new music releases includes Foo Fighters' But Here We Are, the band's first album since the March 2022 death of drummer Taylor Hawkins. John Mellencamp previewed his 25th LP, Orpheus Descending, with a song called "Hey God" in which he asks for deliverance from rampant gun violence.
Steve Lukather's ninth solo album, Bridges, is once again basically a Toto album featuring a series of collaborations with bandmates Joseph Williams and David Paich. Funky Nothingness is a previously unheard album of Frank Zappa material believed to have been earmarked as the follow-up to 1969's Hot Rats.
Bob Dylan's online project Shadow Kingdom will be released as a download and rental film, as well as an album. Gov't Mule's new album Peace ... Like a River features guest appearances from Billy Gibbons, Billy Bob Thornton and others.
June reissues include two classic Alice Cooper albums, as studio outtakes and previously unreleased live recordings are added to Killer and School's Out. Drive-By Truckers' The Complete Dirty South re-sequences and expands the LP to present their initially proposed 17-song running order.
Eric Clapton has expanded upon 1991's 24 Nights, with previously unreleased audio and video from a celebrated run of shows at London's Royal Albert Hall. Black Sabbath is commemorating their first official concert release with a remixed and remastered 40th-anniversary reissue of Live Evil. Roger Waters' Lockdown Sessions collects online material from the quarantine era for release on CD and vinyl.
The Grateful Dead's limited-edition 17-disc Here Comes Sunshine 1973 box features five previously unreleased live performances from Des Moines, Iowa; Santa Barbara, California; San Francisco; and Washington, D.C. Hollywood Vampires are also releasing their live album, recorded just weeks after the band's self-titled debut album arrived.
More information on these and other new rock-related efforts can be found below. Remember to follow our continuously updated list of 2023 New Music Releases for details on projects issued throughout the year.
June 2
The Alarm, Forwards
Black Sabbath, Live Evil: 40th Anniversary Super Deluxe Edition
Bob Dylan, Shadow Kingdom
Dr. John, The Montreux Years
Foo Fighters, But Here We Are
Hollywood Vampires, Live in Rio
John Mellencamp, Orpheus Descending
Jorma Kaukonen [Jefferson Airplane and Hot Tuna], Live at the Bottom Line
Noel Gallagher's High Flying Birds, Council Skies
Quicksilver Messenger Service, Live at the Fillmore: June 7, 1968 (2CD set)
Roger Waters, The Lockdown Sessions (CD/vinyl release)
June 9
Alice Cooper, Killer; School's Out (expanded 2CD/3LP reissues)
Extreme, Six
Jason Isbell and the 400 Unit, Weathervanes
Ratt, The Atlantic Years 1984-1990 (5CD box)
Spencer Davis Group, A's and B's 1964-1967 (2CD set)
June 16
Drive-By Truckers, The Complete Dirty South
Gov't Mule, Peace ... Like a River
Poco, Legacy (vinyl reissue)
Queens of the Stone Age, In Times New Roman
Steve Lukather, Bridges
Yusuf/Cat Stevens, King of a Land
June 23
Dream Syndicate, The Days of Wine and Roses (40th anniversary expanded edition)
Eric Clapton, The Definitive 24 Nights
Gary Moore [Thin Lizzy], The Sanctuary Years 1999-2004 (4CD box)
Little Feat, Sailin' Shoes; Dixie Chicken (expanded 2CD/3LP reissues)
Stewart Copeland, Police Deranged for Orchestra
Various artists, We're an American Band: A Journey Through the USA Hard Rock Scene 1967-1973 (3CD set with Alice Cooper, Steppenwolf, Vanilla Fudge, Iron Butterfly, others)
June 30
Big Country, Driving to Damascus (4CD deluxe box)
Frank Zappa, Funky Nothingness
Grateful Dead, Here Comes Sunshine 1973 (17CD box)
Hawkwind, Warrior on the Edge of Time (Steven Wilson vinyl remix)
Howard Jones, Sings What Is Love (12-inch blue-vinyl)
Huey Lewis and the News, Japanese Singles Collection: Greatest Hits (CD/DVD set)
Melvins, At the Stake: Atlantic Recordings 1993-96 (3CD clamshell set)
Various artists, Round and Round: Progressive Sounds of 1974 (4CD clamshell box with Jethro Tull, Traffic, Jack Bruce, Gong, Nektar, Hawkwind, Utopia, others.)
July and Beyond
Greta Van Fleet, Starcatcher
Nils Lofgren [E Street Band and Crazy Horse], Mountains
Joni Mitchell, At Newport
Talking Heads, Stop Making Sense (expanded reissue)
Pretenders, Relentless
Dolly Parton, Rockstar
2023 Rock Tour Preview
Reunions, farewells and long-awaited shows are on the horizon.