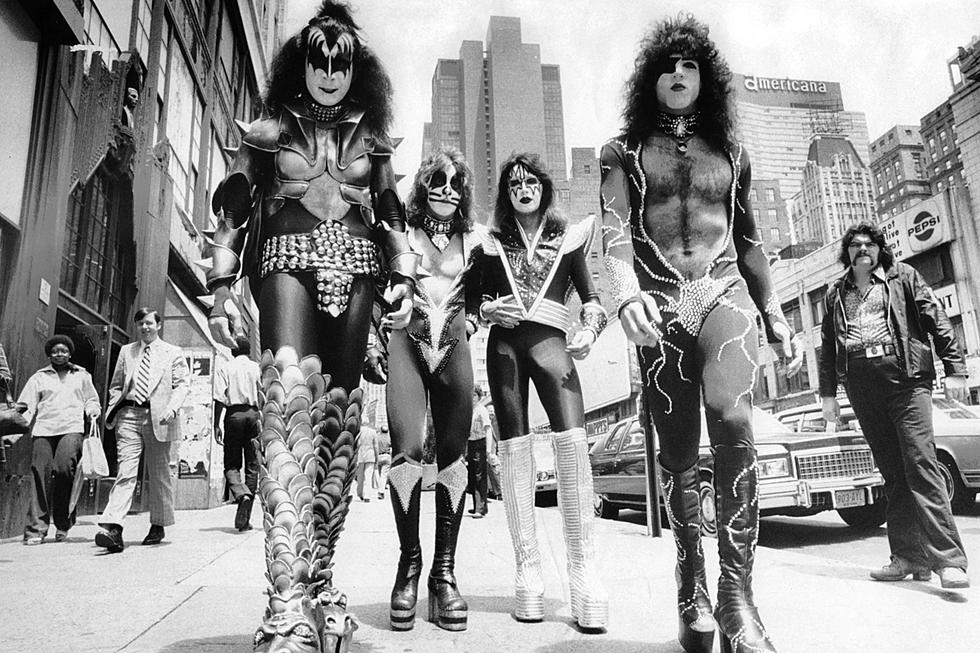 Gene Simmons 'Sad and Angry' About Frehley and Criss' Absence
New York Daily News Archive, Getty Images
Gene Simmons is unhappy that Peter Criss and Ace Frehley won't share the stage with Kiss at the band's final concerts.
"I feel sad. I feel sad and angry that both Ace and Peter aren't here," the band's founding bassist told 519 Magazine. "I mean, they're alive, but they're not here to enjoy this unbelievable journey with us. They were there at the beginning and deserve all the credit. And when they look in the mirror, the only reason they're not here with us is themselves."
Simmons and fellow founding Kiss bandmate Paul Stanley will conclude the band's nearly five-year long End of the Road farewell tour with a sold-out show at New York City's Madison Square Garden on Dec. 2. The concert will be available to watch live via PPV.
The band's current lineup - the longest-running one in their 50-year history - is rounded out by guitarist Tommy Thayer and drummer Eric Singer, who have both been with the group for over two decades.
Kiss' original drummer Criss left the band in 1980, followed by lead guitarist Frehley in 1982. They both returned for a series of lucrative reunion tours in 1996, with Frehley departing again in 2002 and Criss in 2004.
Read More: Kiss Lineup Changes: A Complete Guide
"We'd love to have Ace and Peter Join us here and there," Simmons declared soon after the January 2019 start of the band's farewell tour. "And if they don't, it's not going to be because of us. But they're never going to be in Kiss again."
Later that same year Kiss manager Doc McGhee explained the difficulties involved with getting Frehley and Criss to share the stage with Singer and Thayer, who wear the Spaceman and Catman face paint made famous by their predecessors. "People say, 'Oh, you should bring Ace and Peter up.' I mean, how do you do that when you have two Catmen and two Spacemen?' So you say, 'Okay, you don't wear makeup, and you wear makeup.' And then they go, 'Well, that was my makeup.' I don't know."
Speaking to UCR last month, Stanley said he was at peace with the issue. "This tour is a celebration of the band and the life of the band over the past 50 years. It's not a celebration of the original lineup," he explained. "As important as the original lineup was, I can say that we wouldn't be here today if not for them, and we wouldn't be here today with them."
Kiss Solo Albums Ranked Worst to Best
Counting down solo albums released by various members of Kiss.
Gallery Credit: Matthew Wilkening