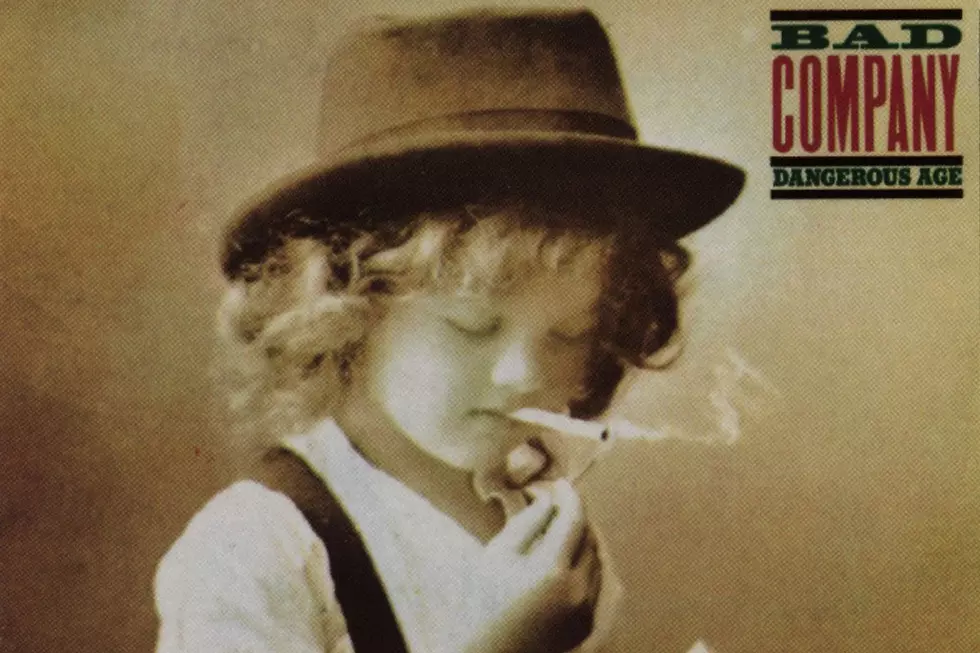 35 Years Ago: How the Retooled Bad Company Survived a 'Dangerous Age'
Atco
Bad Company faced criticism over '80s-era changes in their sound. The group's singer Brian Howe felt money and success had taken away their muse for the blues.
Things were different when Bad Company was just a scrappy band founded by the departed singer Paul Rodgers and remaining drummer Simon Kirke and guitarist Mick Ralphs. "If you're going to sing the blues and you're going to do it properly, I think you have to be struggling a bit," he told UCR in 2015. "I think you've gotta have some soul left in you and you've gotta have a feel that quite frankly [didn't exist]. Mick and Simon, they haven't been poor for like 50 years."
Bad Company had been in a delicate position following Rodgers' unexpected departure to go solo after 1982's Rough Diamonds. "We were left twiddling our thumbs," Kirke told the Lexington Herald-Leader. Several years of inactivity followed. When they linked up with Howe, a husky vocalist who'd previously worked with Ted Nugent, it wasn't as common to swap out lead singers.
Kirke admitted he was "trepidatious" about the idea. "We'd been off the scene and I wondered how fans would take to the new lineup," he told the Atlanta Constitution in 1988, "but it really didn't seem to matter that Paul wasn't with us."
He acknowledged scattered cries from fans asking "Where's Paul?" but insisted that they were "few and far between," thanks to their recruit. "Brian sings the old songs differently, without straying too far from the original versions," Kirke said. "He's revitalized them for us."
The initial Bad Company album with Howe, 1986's Fame and Fortune, had more of an AOR sheen. Things took on a grittier tone instrumentally with Dangerous Age, which followed in August 1988. Fame and Fortune's production duties had been overseen by Keith Olsen and Mick Jones after the Foreigner co-founder recommended Howe to the band. Terry Thomas came on board to produce Dangerous Age and also co-wrote all the songs – primarily with Howe.
Listen to Bad Company's 'One Night'
"One Night," which led the album, had traces of the traditional blues swagger that Bad Company was known for in its prime, but there was also a harder rock edge that represented new territory. Howe's lead vocals were smooth, yet toughened up, and now surrounded by layers and layers of background vocals in the choruses. That would become a signature during this era.
Both "One Night" and "Shake it Up" notched Top 10 finishes on the Billboard Album Rock charts, while the muscular second single "No Smoke Without a Fire" became the record's calling card and a fan favorite. "That song is the song that brought us back into the public's ear," Howe told UCR. "It was very powerful, very simple, but a dynamic little song, and it did the job for us."
Howe chalked up the shortcomings of Fame and Fortune with being unexpectedly asked to write the majority of the songs. "We kind of just put ideas together and worked on songs and one or two of them turned out very, very good, but a lot of them were just drafts, to be honest with you," Howe explained.
Dangerous Age would require "something a bit more drastic," as he termed it. "I knew that I wouldn't be able to rely on Mick and Simon to write the songs," Howe said. "It's sad, but they weren't coming up with anything. So I contacted Terry Thomas through [manager] Bud Prager and Terry and I sat down and wrote songs."
The shift in sound was hardly a conscious one, he insisted. "We weren't trying to copy or emulate anybody," Howe said. "We were just writing songs that we thought would fit the Bad Company vehicle the best."
Still, considering how removed the others were from their initial days of struggle, this more contemporary direction felt like a natural evolution. "It was time to get a little bit more aggressive and be a bit more real and a bit more streetwise if you like," Howe said. "I like to hear drums. I like to hear a thumping drum, I like to hear crunching guitars and I like to hear harmonies. I like to hear strong choruses, and that's how I write."
Listen to Bad Company's 'No Smoke Without a Fire' 
The hard-rock tone of Dangerous Age also fit well with the period, even if critics were unimpressed. Bad Company was soon on the road with bands like Winger, who opened for the group. A lukewarm review from The Boston Globe after an 80-minute local set in December 1988, however, argued that "No Smoke Without a Fire" "sounded more like Bryan Adams than Bad Company."
Despite inner turmoil, Howe, Ralphs and Kirke continued to hold it together in part because of the record label's insistence on maintaining the brand. Dangerous Age went gold and that opened the door for platinum success with 1990's Holy Water, which included a Top 20 Billboard hit with "If You Needed Somebody."
Here Comes Trouble included the group's most recent Top 40 single, 1992's "How About That," but Bad Company finally fell apart following its promotional cycle. Kirke would eventually have second thoughts about the Howe years.
"It really wasn't the Bad Company that I knew and loved," he told interviewer Will Harris, "and me and Mick and Brian had a falling out after a few years. It became very hard to work with. We were all dealing with our own problems."
They'd try another singer, Robert Hart, before splitting once more in 1996. Rodgers eventually rejoined, while Howe maintained a solo career before he died in 2020 after a long period of heart issues.
Meet the New Boss: Rock's Replacement Singers
Some bands soar to their greatest heights after an original frontman leaves. Others must deal with the past's towering expectations.