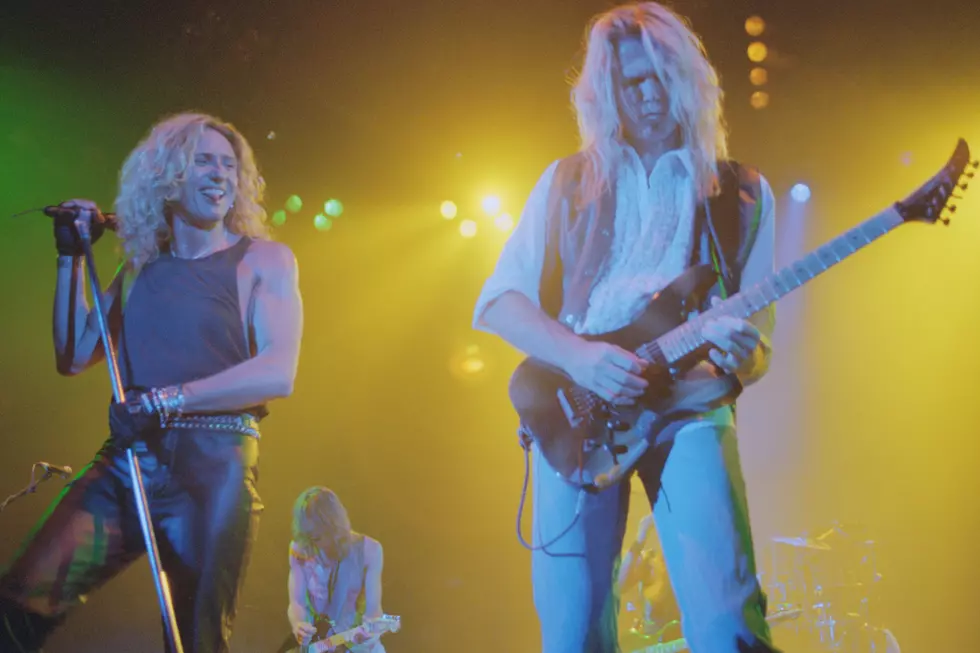 Adrian Vandenberg Wants to Make Blues LP With David Coverdale
Brian Rasic, Getty Images
Former Whitesnake guitarist Adrian Vandenberg said he had discussed "pretty specific ideas" for a reunion with onetime colleague David Coverdale, noting it could take the form of a blues album.
The Dutch guitarist joined Whitesnake in 1985 and remained until the band's 1997 split, but he has remained in contact with Coverdale, who appeared on the debut album by Vandenberg's MoonKings band in 2014.
Recalling his refusal to return when Coverdale reformed Whitesnake in 2002, Vandenberg recently told White Line Fever that the singer "wanted to stop altogether because he was kind of worn out on the road. He didn't want to do it anymore. … When he called me up and said he wanted to start it up again, I couldn't do it because I had all kinds of obligations for exhibitions for my paintings. And those are always planned a year ahead, because art galleries reserve the space a year ahead because exhibitions usually last three to six months or something. I couldn't do it but we did keep in touch always. We still do."
The guitarist added that he and Coverdale became "very good friends over the years, [so] you never know what might happen. ... We actually have pretty specific ideas about maybe doing a blues album or an acoustic thing or whatever. … Sooner or later it might happen, but right now we're really involved in [other projects]. So this is probably not the time. But I wouldn't be surprised if, sooner or later, we end up doing something together in some kind of format. I was in Whitesnake for 13 years, which is quite a long time. I still hold the record, I think."
Vandenberg's MoonKings released their second album, MKII, last year. They make a handful of European festival appearances over the coming months. Whitesnake recently said the release of their next album, Flesh & Blood, has been delayed until 2019.