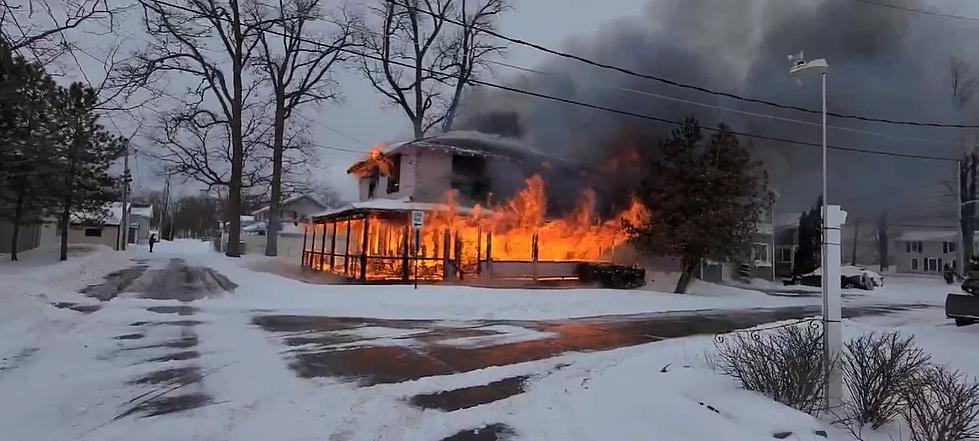 UPDATE: Cause of Fire Still Being Investigated
Screenshot from Facebook via SylvanBeachJoeC
UPDATE: 02/28/2022 0834  Chief Rick Johnson of the Sylvan Beach Fire Department is confirming that there was no loss of life and no injuries in Friday's fire.  "Even the pets were saved," by firefighters and a neighbor, Joe Cieslak.
The cause of the fire is still under investigation.  Chief Johnson says that investigators are still processing evidence to determine the cause of the blaze.
His department has responded to some scattered criticism after the fire and published the following set of questions and answers on the Sylvan Beach Fire Department Facebook page:
"• What took so long to arrive on scene?
Out of the 18 Sylvan Beach firefighters on scene, 11 responded from work. These firefighters had to respond to the fire station to properly staff apparatus and then respond to the scene.
• Why did it take so long to get water on the fire?
Once each piece of apparatus arrives on scene, they have several tasks to complete, including securing a water source, donning their SCBA, and getting tools together. Once this is done, they then can stretch handlines and begin to extinguish the fire.
• Why not let the first structure burn and focus on the second structure?
What can't be seen in the picture is the extreme amount of radiant heat being put off by the main structure, resulting in a total of seven structures being lost or damaged. Yes, a majority of suppression was focused on the second involved structure, however the first structure needed to be fully extinguished to limit further damage to the rest of the affected houses.
• Why were there so many fire departments called?
It's no secret that the number of volunteer firefighters are dwindling rapidly. During work hours it's extremely difficult to get an adequate number of firefighters to safely do the job. This often requires multiple departments to be called.
It's also important to note that a big factor in today's fire was the weather. This house is located near the lakefront, and there was a strong 20-25mph west wind which dramatically enhanced fire progression. Furthermore, temperatures were in the teens with the wind chill well below zero, so we were dealing with frozen hoses, frozen air packs and frozen tools, and we had to constantly rotate firefighters to ensure their safety.
So, for anybody who asked any of the above questions, we hope we answered them sufficiently.'
The post was followed by a plea for others to get involved and become volunteer firefighters.  Chief Johnson said that they have received several inquiries from members of the public about volunteering since the post as made.
UPDATE: 02/26/2022  1142  Authorities are still investigating but the Sylvan Beach Fire Department posted the following information on its Facebook page regarding the fire that affected two homes in Sylvan Beach:
"On February 25, 2022 at 1:28pm, Sylvan Beach Fire Department was alerted to a Structure Fire on Park Ave at 17th Ave. At 1:30pm, Sylvan Beach Car 1 and 2 arrived confirming one structure fully involved with extension to a second two story residence. At 1:34pm, Sylvan Beach Engine 3 arrived on scene, at 1:35pm Truck 1 arrived, and at 1:37pm Engine 1 arrived. Each piece secured their own hydrant and laid in from different directions."
A family cat, who had gone missing after the fire in one of the two homes, returned to the family unharmed earlier this morning.  The family is thanking the public for sharing information about the missing cat.
Firefighters Still Investigating Sylvan Beach House Fire, Neighbor a Hero
UPDATE:  02/25/2022  1622  Eyewitness Joe Cieslak took the video shown in this post.
Cieslak says that he was outside snow blowing his neighbor's driveway when he saw the smoke.  Said Cieslak:
"I ran down to see what was going on and called 911.  Then I went to the house next door and knocked and rang the doorbell then tried the door and it was unlocked so I went in to see if anyone was in there.  I yelled and went to all the rooms and didn't see anyone.  I looked for pets and found (two) guinea pigs in a cage and tried to pick them up but they were scared.  Then there was an explosion that lit up the whole house so I picked up the big cage they were in and dragged it out of the house."
Cieslak praised the firefighters.  He said that he saw them going in the house afterward to retrieve some of the sentimental things inside. Among the items was a flag that they gave to the residents.  "That," he says, "was touching to see.  It got me.  The firefighters did a great job."
He says that two houses were destroyed in the fire.  The fire started at the corner house and the wind blew it to the other house.  WIBX has reached out to authorities but there is no word yet on exactly what caused the fire.  Firefighters say they are still investigating.
Cieslak says that a house about two houses down on the same street burned about ten years ago.  During that fire he saved a dog that was inside the home.  "With the wind in the winter the old houses, made of wood, burn easily."
When he was called a hero, Cieslak shook it off, and said that he was "just there" and did not think about it.
UPDATE:  02/25/2022  1510  Firefighters have contained the fire. Authorities are investigating.  There is still no word yet on whether anyone was inside the home.
If you live in Sylvan Beach, you're asked to avoid the area of the fire.
Original Story:
This is a developing story and more information will be posted as soon as it is available.
The above video was taken by: "Sylvan Beach Joe C" on Facebook.
Authorities are working an active house fire in Sylvan Beach.
The fire fully engulfed a home located at the intersection of Park Avenue and 17th Avenue in Sylvan Beach Village.
The fire was reported at 1:26pm on Friday, February 25, 2022.
Multiple fire agencies have been called to assist including:
Sylvan Beach
Camden
Canastota
Cascade I
Chittenango
Cleveland
Durhamville
Florence
Lee Center
McConnellsville
North Bay
Taberg
Vienna
Vineall
Wampsville
17 New Laws in New York You Should Know
The New Year brings with it a host of new laws for Empire State residents. Here are nearly 20 that may impact you in 2022.
Fisherman Gets Up Close Look at Majestic Moose in the Adirondacks
Firefighters Work Together to Rescue Dog Stuck on Frozen Ice
Three emergency response teams in Onondaga County worked together to rescue a dog that became trapped on the ice after chasing some geese.
8 Things We Really, Really Hate About Adulting