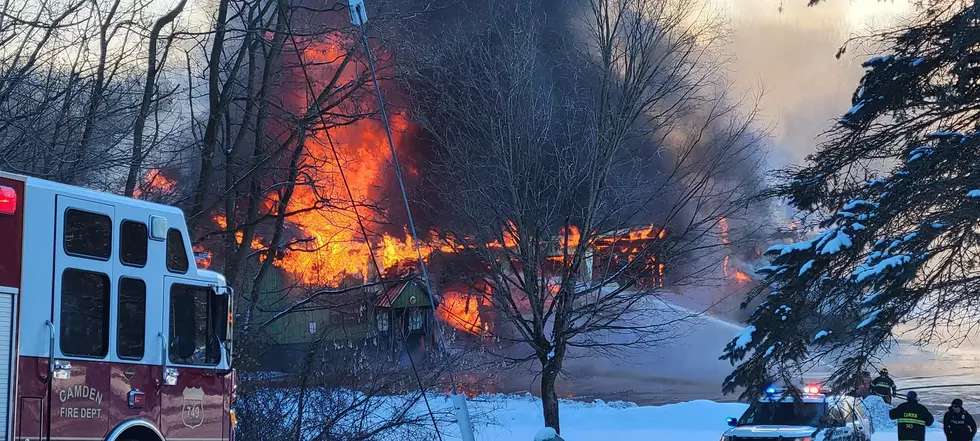 'Impressive Fire' Leaves Camden DPW Garage in Ruins
credit: Jeff Currie via Facebook - Fire At Camden Garage 12/13/22
What one onlooker called an 'impressive fire' engulfed and destroyed the village of Camden's DPW Garage on Tuesday.
The Oneida County 911 Activity Log shows calls for fire response started just before 9:30 on Tuesday morning.
There are no reports of injury, however, all that was left standing by afternoon were charred portions of an exterior wall.
This photo from Google Maps shows the Camden DPW Garage in October of 2013.
All that remains following Tuesday's fire are burnt-up sections of the wall.
Photos submitted by Jeff Currie on Facebook show the billowing gray and black smoke seen from down the road:
Firefighters from several departments responded to Tuesday morning's large fire, including Camden, Florence, McConnellsville, Cleveland, Sylvan Beach, and Lee Center, according to Oneida County Emergency Dispatch.
It is not known at this time what, if any, equipment used by the DPW or the village were lost in the fire. Check back for updates to this story.
Grab These Totally Non Creepy Free Gifts From Utica's Craigslist
Why go through all of that stress when you can grab these totally free, and totally not creepy or weird gifts, from your friendly Utica CraigsList.