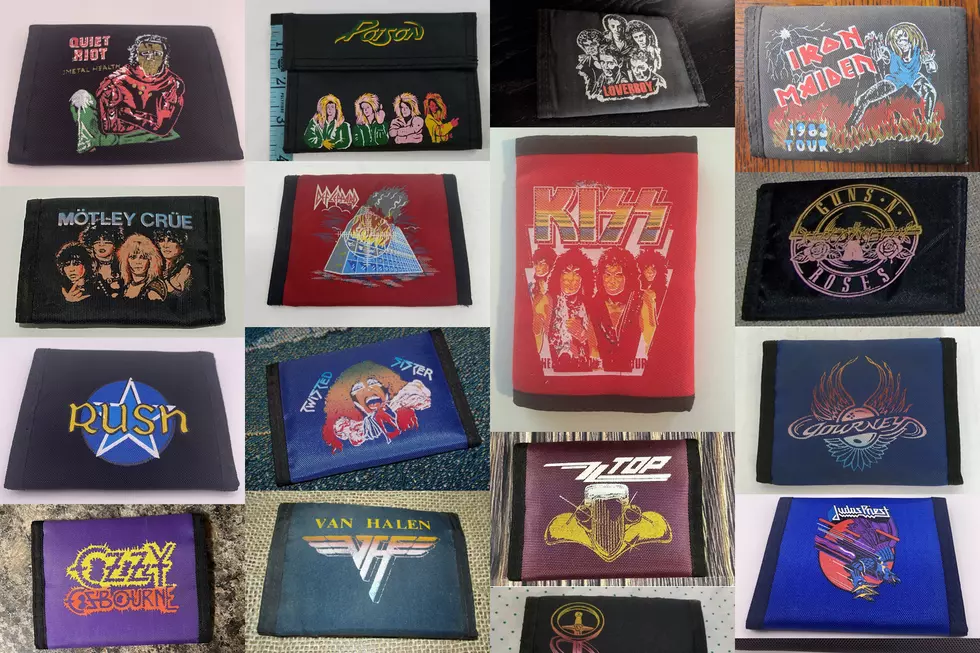 See Over 100 Awesome '80s Retro Rock 'n' Roll Wallets
eBay / Worthpoint
It's quite possible that wallet technology peaked in the '80s, at least in the rock 'n' roll world.
Check out our gallery of over 100 '80s retro rock 'n' roll wallets and judge for yourself.
Sure, nowadays you can buy a wallet made of the same metal they use to protect airplane black boxes, with RFID shielding to keep people from digitally scanning your credit card information. But does that really top the nylon and velcro masterpieces displayed below?
Granted, back then the printing technology wasn't quite as advanced as we have today, and as a result many of your favorite band logos and album covers are rendered in slightly simplistic ways. Rock star faces can be affected even more drastically, with Twisted Sister's normally very handsome singer Dee Snider portrayed as absolute nightmare fuel in one especially oddly crafted wallet. But that's all part of the charm, right?
As with our recent gallery of 200 rock 'n' roll carnival mirrors, you'll find that hard rock and heavy metal artists such as Van Halen, Judas Priest and Motley Crue turn up multiple times. But you'll also find some more pop-oriented artists, including Cyndi Lauper, Duran Duran and even Air Supply.
Top Five Designs: Kiss Animalize, Judas Priest Screaming for Vengeance, Def Leppard Pyromania (red), Iron Maiden "1983 tour," Quiet Riot Metal Health (blue).
Burning Questions: Why does the Rolling Stones' Bill Wyman get his own wallet, and what happened to the "s" from his band's name? How are there no vintage Sammy Hagar wallets or carnival mirrors anywhere on the internet? The VOA cover would be perfect!
See Over 100 Awesome '80s Retro Rock 'n' Roll Wallets
Admit it, these nylon and velcro marvels were the height of cash-carrying fashion.