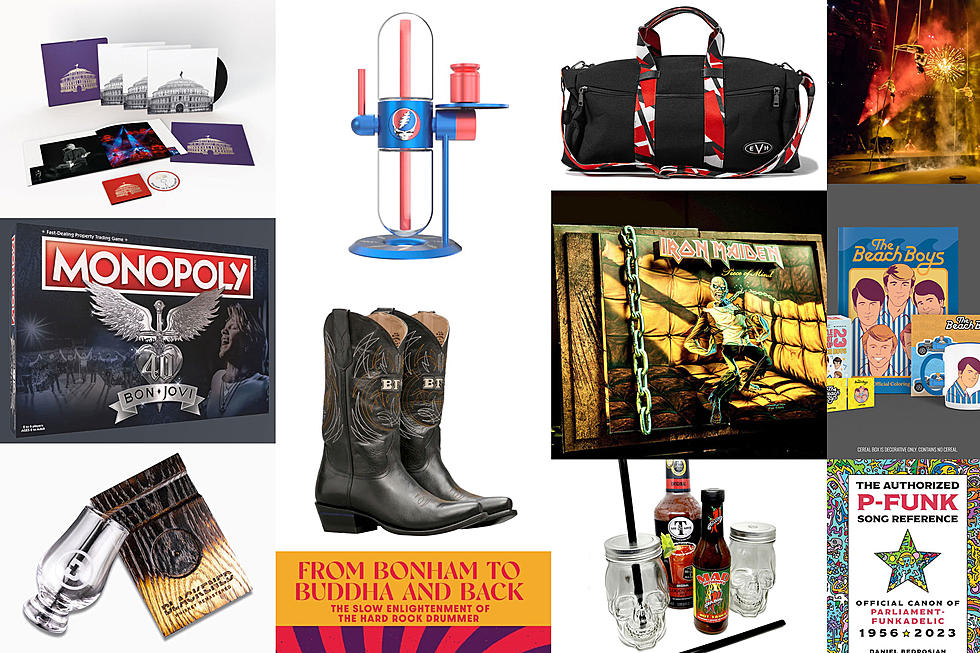 2023 Classic Rock Holiday Gift Guide: Bongs, Boots, Bags and More
UCR
Once again, it's time to find holiday presents for the classic rock lovers in your life. Here's the 2023 edition of our handy gift guide, featuring new and unique gift ideas from some of the genre's biggest superstars.
Would you like to help your friends and family members dress like ZZ Top, drink like Van Halen and smoke cigars like James Hetfield? We can help you accomplish all of those goals, with boots from Billy F. Gibbons, a bloody mary kit from Michael Anthony and a cigar stave from Metallica.
You'll also find an excellent live box set from Bryan Adams, Van Halen-ized travel gear and a technologically advanced Grateful Dead gravity infuser.
Best of all, we've included handy online buying links for each item so you can avoid going to the mall and hearing Mariah Carey's "All I Want for Christmas is You" played over and over again. Happy holidays!
2023 Classic Rock Holiday Gift Guide: Bongs, Boots, Bags and More
Here's what to get the classic rock lover in your life.
Gallery Credit: Matthew Wilkening
Where to Buy:
Beach Boys Comic Book Bundle: Fantoons.shop
The Beatles 'Love' Tickets: CirqueDuSoleil.com
Billy F. Gibbons BFG Boots: Alvies.com
Bon Jovi Monopoly: BonJovi.com
Bryan Adams, Live at the Royal Albert Hall: Amazon
Clementine Moss, From Bonham to Buddha and Back: Amazon
Eddie Van Halen Frankenstein Duffle Bag: VanHalenStore.com
Grateful Dead Gravity Infuser: Studenglass.com
Iron Maiden Piece of Mind Comic Book: Z2Comics.com
Mad Anthony Bloody Mary Gift Pack: MadAnthonyStore.com
Metallica Blackened Whiskey Cigar Stave and Glencairn Glass: Metallica.com
Parliament-Funkadelic: The Authorized P-Funk Song Reference: Amazon
Queen The Miracle Cube: QueenOnlineStore.com